Putting on a global tech user conference for the very first time sounds like a demanding endeavour in itself. When the said conference becomes virtual due to a global pandemic, the stakes are raised even higher.  
There is nothing as effective as being face-to-face. Still, when we finally had to go virtual, we were determined to never settle for anything less than making the most out of the current digital possibilities. We wished to create a space for lively discussions, networking, common learning, information sharing and interactions with our customers and enterprise tech junkies. The team, however, had only a vague idea on how to make this dream a reality. After months of hard work, passion and sheer grit, Hexnode's First ever global User Conference HexCon20, turned out to be a smashing success. To make it happen despite the challenges and hiccups faced, we had a lot of help and support from our speakers, customers, partners and attendees every step of the way.  
HexCon20 was a benchmark in the history of Hexnode. In this blog, we attempt to give you a sneak peek into what exactly went behind the making of HexCon20 as you witnessed it. 
Reaching the name "

HexCon

"

 
Finding a suitable name is a very important step, especially when we are planning for an event that makes history. Everyone from the company was involved in the naming process, with heated debates and company-wide polls. This passion displayed at the very first stage set the trend for the coming months. 
And finally, we reached the name "HexCon20" after numerous discussions. The name does have a nice ring to it, doesn't it? 
Fun fact: It took close to a week worth of brainstorming, polls, and discussions to find the perfect name 
Planning and coordinating the event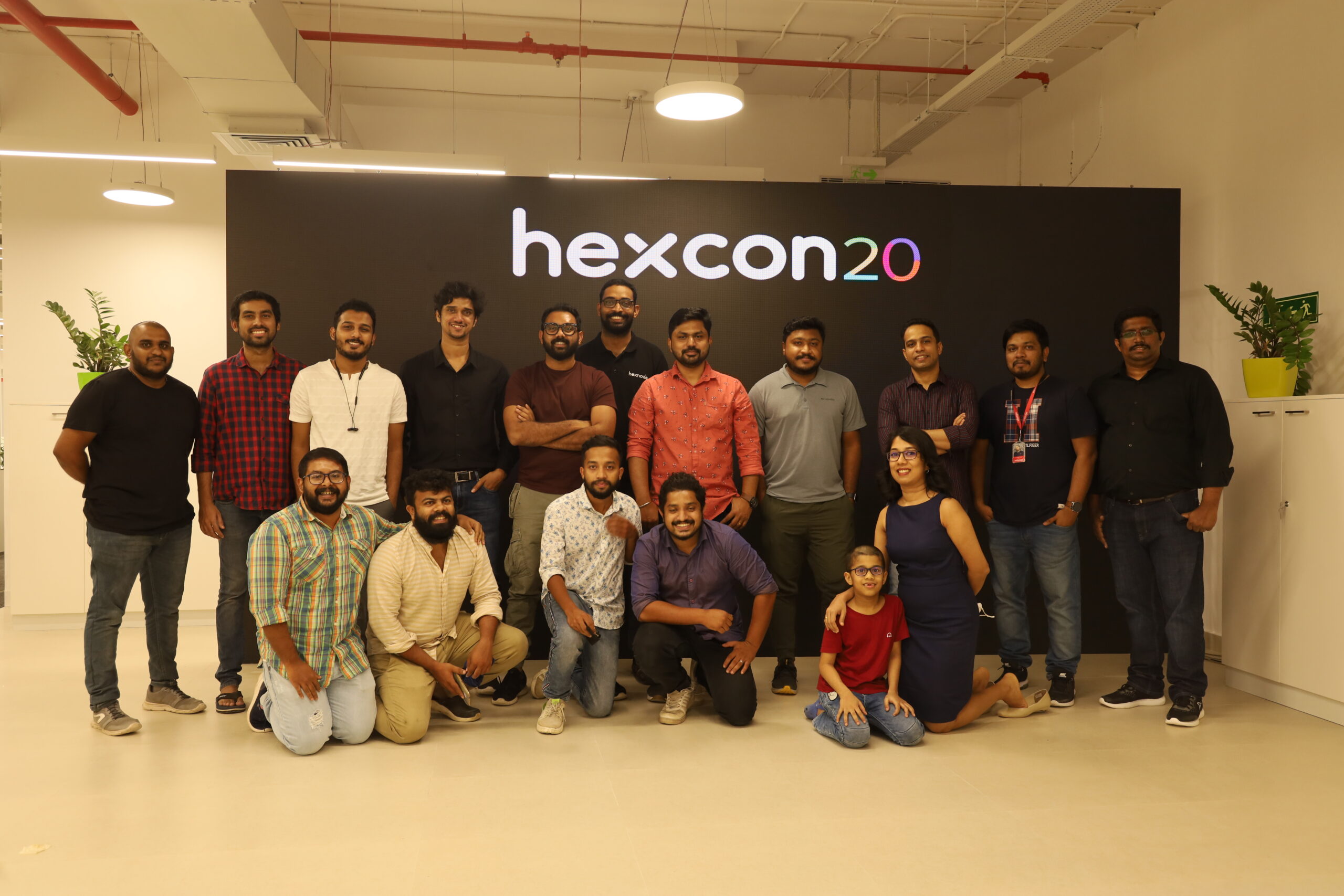 Burning the midnight oil in style
When we first thought of hosting a user conference, we've been looking for opportunities to connect with our user base in person, but due to the uncertainties around COVID'19, it was apparent that an in-person conference would be impossible. So, instead of out-right canceling or postponing the event, we opted to pivot to a virtual format. With that, we had to redesign some of the initial plans from the ground up to ensure that the shift is worthwhile and foster exceptional benefits for the attendees directly to the comfort of their home or office.  
Being the first event ever hosted by Hexnode and that too online, the team had no idea on what tools and services to be used. The planning phase had to go alongside our ongoing works, which itself was going hard due to the constantly changing circumstances brought about by the global pandemic. 
Creating the same bonding feel as in in-person events was quite a difficult task. A thorough research was needed before we decided on the streaming tools and the tech platform prior to the actual development part. The first question we had to answer was "How could we make the experience as close to an in-person event?". We asked many of our co-workers who frequented events and we found out there are many factors that many virtual events miss out on. One such factor was the invaluable networking opportunities. It's inevitable that when people from the same industry get together there is a sense of belonging and an opportunity for creating new connections. We had to provide a platform for these connections to prosper. Our weapon of choice was Discord, which would go on to be a centralized hub or the counterpart of an in-person event lobby. 
The team had to work on developing a structured and intriguing agenda, an effective customer engagement strategy including unique networking opportunities and gamification which could bring together our community looking to make meaningful connections, and quick troubleshooting plans as we discussed how to resolve any foreseen technical issues that could arise in a virtual event. So, it was all-hands-on-deck. 
Different teams like organizing team, media, designs and many more were put together for effectively planning and executing the various stages like pre-planning, planning, development, and the promotion phase. 
Right from the moment we started promoting the conference through social media platforms and blogs, we could feel the excitement build among our customers, and this was one of the driving factors for what exactly we have achieved now. 
Unseen challenges faced

 
In contrast to physical/in-person events, hosting a virtual event is definitely riskier. We had to cross several benchmarks to drive success. Additional technical infrastructure and technical expertise are needed to ensure that the whole event is conducted at the scheduled time without any hitch.   
Murphy's Law: Anything that can go wrong will go wrong. The first situation arose on the very day of the conference. About 4 hours before HexCon was due to air, we received a call from our ISP. A series of events had caused the network bandwidth to drop dramatically making it close to impossible that even one of our systems would stream at full-hd resolution. We were able to switch all our machines to Aws EC2 in just under an hour. All the tools and softwares involved had to be re-tested in a short timeframe. The problem gods weren't done with us just yet. 
On the very first keynote the streaming platform had taken a hit from the unexpected traffic. The streaming stations were switched within a minute but the traffic almost doubled in that very minute causing the lag to persist, and it is no exaggeration to say that the Hexnode team was very worried. Thankfully, we were able to resolve the issues in a record amount of time with the prompt actions of our technical team, who came up with quick ideas on the fly and the unwavering support of our customers.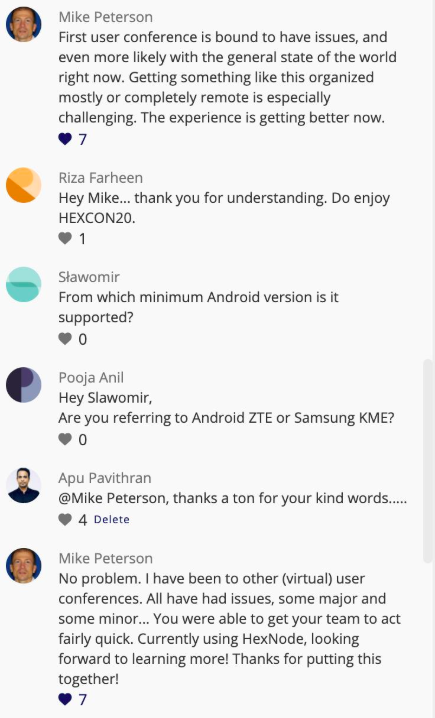 Supportive messages from customers
How we fulfilled our goals at HexCon20

 
Who could participate in HexCon20?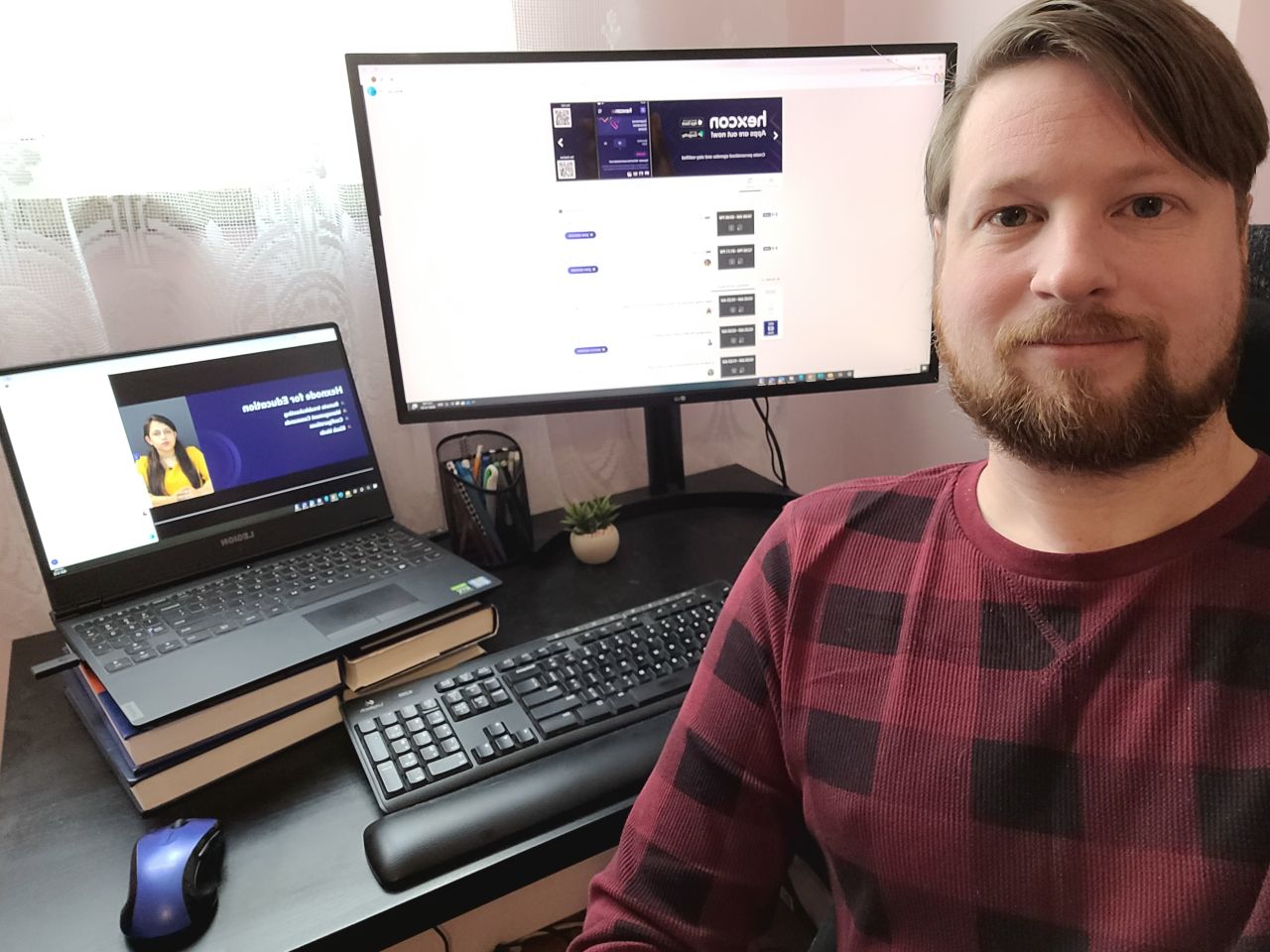 Brett attending his first virtual user conference at HexCon20
We ensured free participation for our customers and partners. Apart from that, anyone who wished to attend could register for the event by paying a fee. We hoped to attract the enterprise tech junkies from around the world and create networking opportunities for all the participants. We are very happy to announce that the turnout was better than expected. And what active participation it was! We couldn't have been more pleased with anything else than the customer engagement, which exceeded our wildest expectations. The live sessions, discussions, games and other interactive events were made fun solely because of the attendees.  
New feature and product announcements:

 
---
HexCon20 was off to an exciting start with the keynote speech of Apu Pavithran, founder and CEO of Hexnode. A whole new look of Hexnode was unveiled, giving the users a peek into Hexnode's new UI. The team also debuted Hexnode Do, a new SaaS management tool from Hexnode. For more details, check out our detailed blog on the Keynote speech of HexCon20. 
Breakout sessions: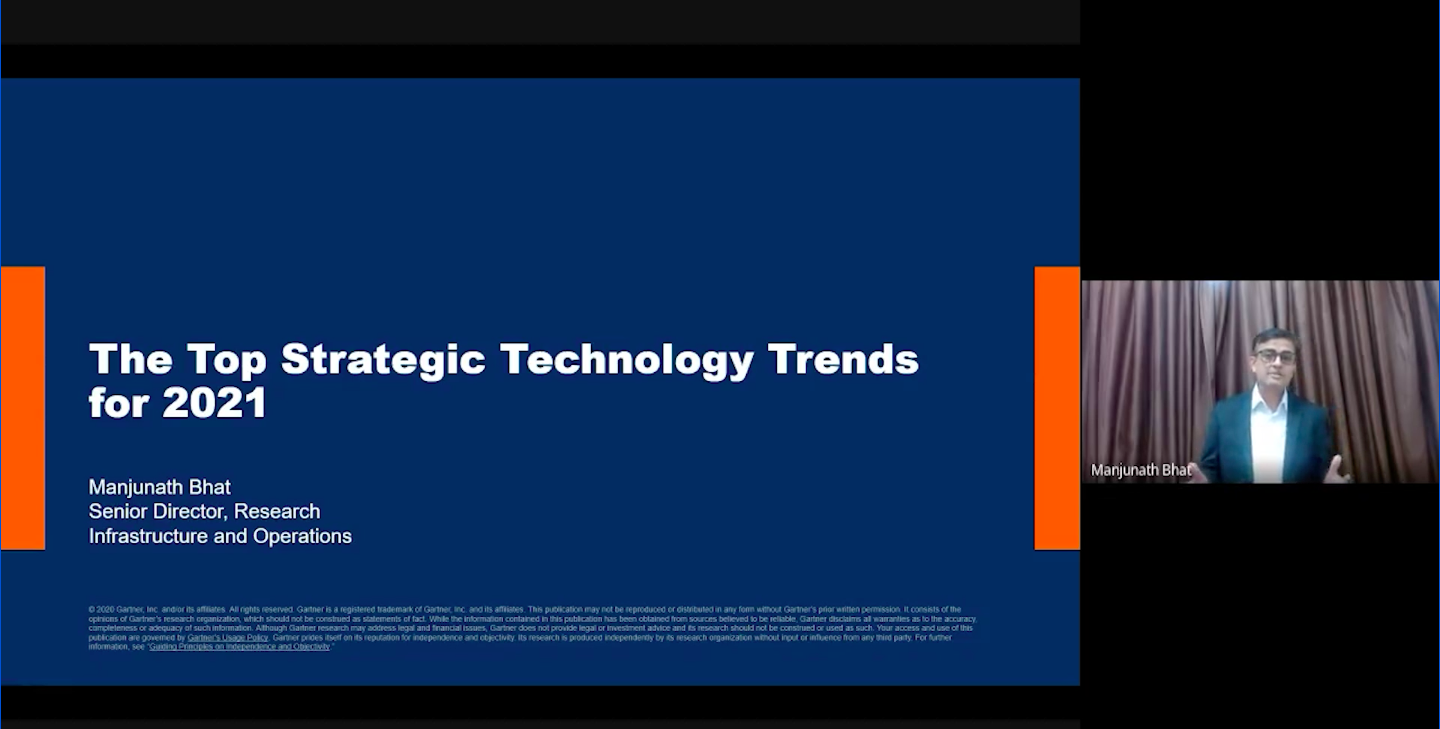 Gartner analyst, Manjunath Bhat speaks on trends of endpoint operation for 2021
The breakout sessions were a hit with a mix of short and long talks and dealt with some important and trending topics, including Zero trust cybersecurity, best practices and tips for endpoint security, and leading trends of enterprise operations. Our team was able to organize these sessions successfully owing to the support and help of all the speakers. The dedicated team was able to provide live tech support and assist whoever needed guidance to setup. The team tried to ensure that none left the event with an unpleasant experience. Every single attendee who voiced their difficulties were called or emailed to ensure that their HexCon experience could resume smoothly.  

Training sessions:

 
Hexnode is a leading UEM vendor and is known for its ease of use and excellent customer support. We wished to make it easier for Hexnode newbies to learn using Hexnode for enterprise management purposes. Hence, detailed training sessions on popular topics like Mac Management and Windows Management were organized.  
Hexnode

 Academy and Certification Program: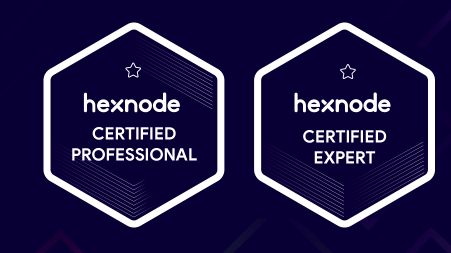 Hexnode Certification

Endpoint management could be a 
tough nut to crack
. 
Hexnode
 Academy was created to help users to crack that nut with ease. Getting an 
Hexnode
 certification would help you prove 
your expertise on 
Hexnode
. The users would be provided with hands-on labs, course material, and video guides for each c
onfiguration.
Networking Breaks and games:

 
All work and no play make Jack a dull boy. To spice it up, the team organized fun games like Among Us, Pictionary, Scavenger Hunt, word puzzle, and virtual trivia. We know that networking is the prime driver of customer satisfaction. There was a huge hit with our customers who shared selfies of how they showed up for the conference in social medias as a part of the Selfie@ hexCon20 contest and help build excitement about the conference.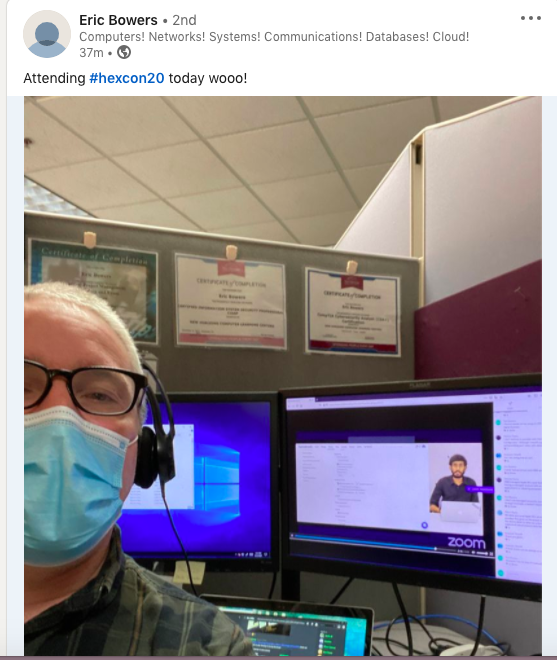 Eric Bowers, Winner of Selfie@ HexCon20

The attendees had fun playing and won for themselves lucrative prizes. The team also put together meeting rooms 
to make sure the
 attendees 
get talking
, share their ideas
,
 and
connect
 with 
Hexnode
 experts 
to
 discuss their business needs and solutions. The attendees 
even
 got the chance 
to have
 a one-on-one chat with Apu Pavithran, founder and CEO of 
Hexnode
.
Concluding the t

wo days of

 

HexCon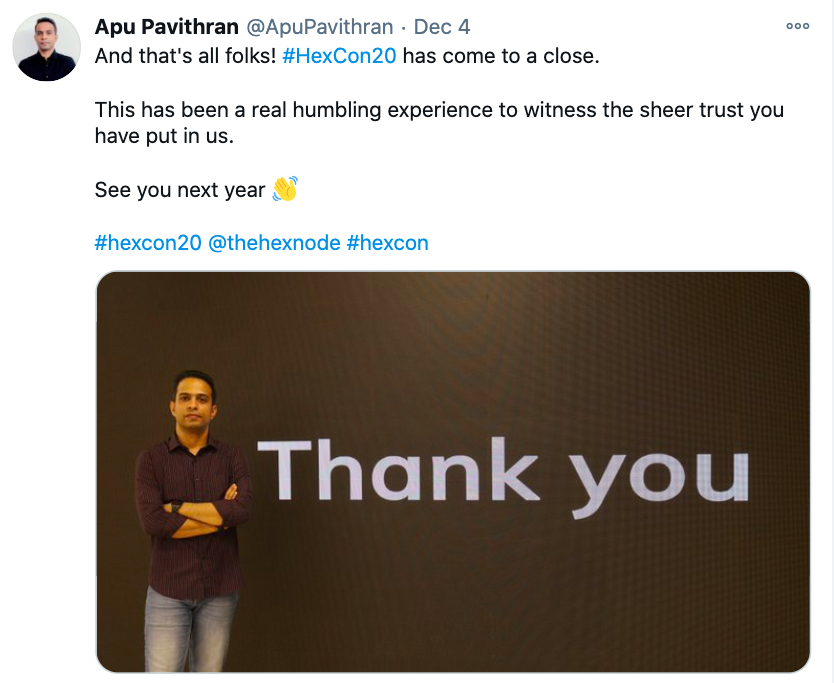 The conclusion of an extraordinary event
The two wonderful days of HexCon20 could not have been made possible without the background efforts of many players of our community, be it the Hexnode team, our customers and partners, the speakers, or the new attendees. We are really amazed at the amount of effort it required to pull it off. The success of the event despite the limitations of the global pandemic was beyond our expectations, and we are sincerely grateful to everyone who made it possible. Our team is quite optimistic and is looking forward to meeting you all in-person the next year.