When we think about our earlier offices, those were mostly centered around a group of immobile devices. Most of them were Windows-dominated. However, the trend has changed now; our enterprises have become more open to mac devices. But, this brings forth yet another challenge of effectively managing these mac devices in the enterprise. Apart from device and data security challenges, enterprise devices should also have flexible options relating to device deployment, app management, and modes like a kiosk. Thus, necessitating the implementation of Apple MDM solutions.
Yet another challenge ahead of us is the growth of device management solutions at an unprecedented rate. With multiple options to choose from, it's easier for enterprises to get confused when choosing the right solution depending on their use case.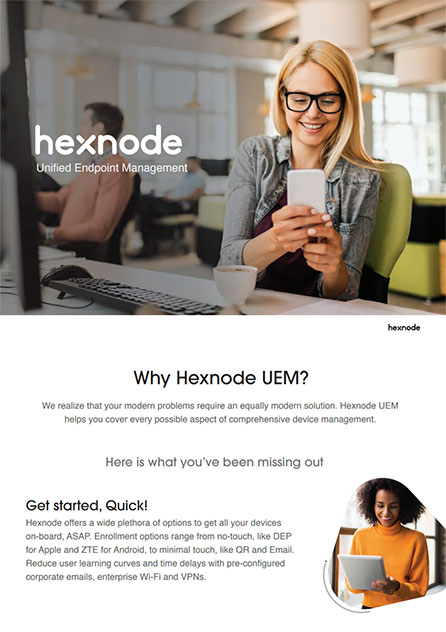 Featured resource
Why Hexnode UEM
We realize that your modern problems require an equally modern solution. Refer to the brochure to know more about UEM features and why UEM implementation may be the best thing to do right now!

Download Brochure
10 best Apple MDM solutions
It's obvious that your enterprise needs an Apple MDM solution to keep your devices and data secure. With plenty of MDMs available, it's quite difficult to filter out the best MDM solution. Well, we have made that process easier for you. Let's have a look at 10 of the top Apple MDM solutions.
1. Hexnode UEM
Hexnode UEM is a Unified Endpoint Management (UEM) solution from the San Francisco-based IT company Mitsogo Inc. It has bagged much recognition recently, some of these being awarded the Expert's Choice Award in the MDM category by Finances online, TECH CARES Award from Trust Radius, and mentioned as a noteworthy vendor in the Magic Quadrant for Unified Endpoint Management tools report, 2021 and more.
Further, it has also been recognized as the key innovator in the MarketsandMarkets global forecast (2018 – 2023) report for the MDM market, was included by Forrester as a mobility specialist in the Now Tech: Unified Endpoint Management, Q2 2021 report, and as a vendor to watch by KuppingerCole Leadership compass.
Hexnode offers Mac, iOS, iPadOS and tvOS management features, making it easier to manage the entire device lifecycle from deployment to decommissioning. For example, it offers flexible enrollment methods allowing you to choose the one best suited for your use case. You can also simplify policy management by segregating devices based on BYOD or corporate.
Hexnode simplifies Mac management with its easy enrollment options and features for securing devices, both BYOD and corporate, volume deployment etc. Its iOS and iPadOS features range from app management, web-filtering, kiosk, configurations and restrictions and more. It also makes managing tvOS easier with its simplified enrollment methods, setting up Wi-Fi networks, conference room display etc.
Additionally, you can also automate policies to ensure complete security, enable access to mandatory applications while disabling unwanted applications and also enforce automatic remediation based on security vulnerabilities and compliance status.
Pricing: Starts at $1.08 per device per month
2. Jamf
Jamf is a comprehensive device management solution built for the Apple ecosystem. It focuses on automating the Apple device management lifecycle along with personalizing Apple devices to specific user needs while preserving the Apple device experience user demands. With Jamf, you can connect Apple users, manage Apple devices and protect Apple endpoints. The options like cloud or in-premise offer flexible deployment options for multiple use cases. It can also work with asset management tools, network access controllers and other IT services with integrations offering added functionalities.
Pricing: Starts at $2/device for the Jamf Now plan

3. VMware Workspace ONE UEM

Workspace ONE is an intelligence-driven digital workspace platform that enables you to deliver and manage apps safely and securely on any device. As a result, it is easier to choose cloud-based or on-premises deployment options depending on your enterprise use case. It serves to meet some of the purposes, including securing productivity on personal devices, shared or multiuser devices, business continuity and remote work, protecting work or school-owned devices and more.

Pricing: Starts at $1.66/device/month

4. IBM Security MaaS360 with Watson
MaaS360 simplifies device management with rapid deployment, comprehensive visibility, and control that spans multiple platforms. It supports most devices like iPhone, iPad, Android, Windows Phone, macOS, Windows etc. It is an easy-to-use UEM solution offering integration with preferred tools for enhancing security and productivity. It is also easier to protect your workforce with evolved threat management features and analytics powered by Watson's AI capabilities.
Pricing: Starts at $4 per client device per month
5. Kandji

Kandji is an Apple device management and security platform capable of efficiently managing your entire device lifecycle. It has powerful tools and time-saving automation for multiple stages from deployment, securing, configuring and managing devices. It supports macOS, iOS, iPadOS and tvOS devices. It also offers integration with identity providers, compliance automation tools, software monitors etc., making it easier to manage the entire device fleet.

Pricing: Starts at $399/month for under 100 devices

6. Addigy
Addigy is an Apple device management platform that lets MSPs and IT teams manage macOS, iOS, iPadOS and tvOS devices. It is a multi-tenant device management solution providing an intuitive platform with zero-touch provisioning, asset management, monitoring and automated remediation, remote access, configuration management and more. It also offers integrations with other solutions like ConnectWise Manage, Autotask, Zendesk etc. Its highlight is its library of 150+ automation with automated patching, compliance templates and the macOS agent that auto-remediates Mac devices even when offline.
Pricing: No more than $6/device/month

7. Miradore
Miradore is a cloud-based device management platform for SMBs providing a smarter way to securely manage both company-owned and personal devices. It supports Android, iOS, macOS and Windows devices. Its integration with Apple's latest Enterprise Mobility Management technologies ensures the protection of enterprise data and devices. In addition, with its TeamViewer integration, it provides remote assistance sessions to provide more hands-on support for the users.
Pricing: Offers a free plan, and the paid plan starts at $2/device/month

8. SureMDM
SureMDM, from 42Gears, is an Enterprise Mobility Management (EMM) solution for Android, Windows and Apple devices. It lets you manage all your company-owned or employee devices from an intuitive Web-based centralized console. It incorporates aspects of enterprise mobility through unified endpoint management, including aspects like Mobile Application management, Mobile Device Management and Mobile Content Management.
Pricing: Starts at $3.99 per month per device

9. ManageEngine
ManageEngine is a Unified Endpoint Management solution that centralizes the management of all your servers, desktops, laptops, smartphones, tablets, and POS devices. With automation, you can easily automate your routine tasks like installing patches, distributing software, imaging and deploying OS, etc. It extends its support to Windows, Mac, and Linux operating systems and mobile devices, iOS and Android.
Pricing: Quote based

10. Scalefusion
Scalefusion is a Mobile device and Endpoint management software helping businesses secure their smartphones, tablets, laptops, rugged devices, point of sale (POS) and digital signages. It supports the management of Android, iOS, macOS and Windows 10 devices. It also extends support for dedicated devices, COPE (Corporate-owned Personally Enabled), and BYOD (Bring Your Own Device). Its diverse management modes give you granular control over the device. It can also help you manage the diverse device ownership modes from BYOD to company-owned devices, all from a single console.
Pricing: Starts at $2 per device per month

Conclusion
With enterprises no longer restricted to well-defined spaces, the need for device management solutions can't be emphasized more. With Hexnode's MDM for Apple, you can ensure that all your enterprise devices, including Mac, iPad, iPhone and Apple TV, are managed efficiently.
Disclaimer
All product and company names are trademarks™ or registered® trademarks of their respective holders. Use of them does not imply any affiliation with or endorsement by them.

Struggling to manage Apple devices?
Sign up for a 14-day free trial and explore Hexnode UEM's device management capabilities.
SIGN UP NOW!