Yet another Android update. This time, it's the much-anticipated Android 12, and it has a lot to offer in design, UI, privacy and more. And with the demand in employee-owned devices soaring, enterprises have their eyes on the Android 12. Now, the question on most IT admins' mind would be- "what's in it for enterprises?" or "what about the security and privacy features of Android 12?". Don't worry, we've got that covered.
Here, we will be focusing mainly on the privacy and security segment.
Seamless Android device management with Hexnode
Android 12
Google released Android 12 to AOSP (Android Open Source Project) on October 4,2021. Later, on October 19 it was made available for all Pixel devices. Vendors like Samsung and OnePlus have already rolled out the update for their flagship models. With the rest of the vendors, users can expect it in the first few months of 2022.
Now, what's new with Android 12? A lot. Let us first have a look at some of the gripping features introduced.
Design updates:
Easily one of the biggest upgrades would be the design. The material design introduced in 2014 has been revamped and brought back under the name "Material You". Also, now the UI feels much smoother. Other updates include bold font for system texts, extra dim etc.
Switch devices easily:
Easily switch from your old device, over a shared Wi-Fi network or a data cable.
Other notable changes:
Screenshots just got better: you can take longer screenshots, edit it on the go, add text etc.
Unlock your car using your phone
App hibernation: if an app goes unused for several months, the system will put it into hibernation state
Search inside your apps, to navigate to a particular section or to find something you are looking for.
There are a lot more minor tweaks and updates, but let's not waste time and go straight into the privacy enhancements.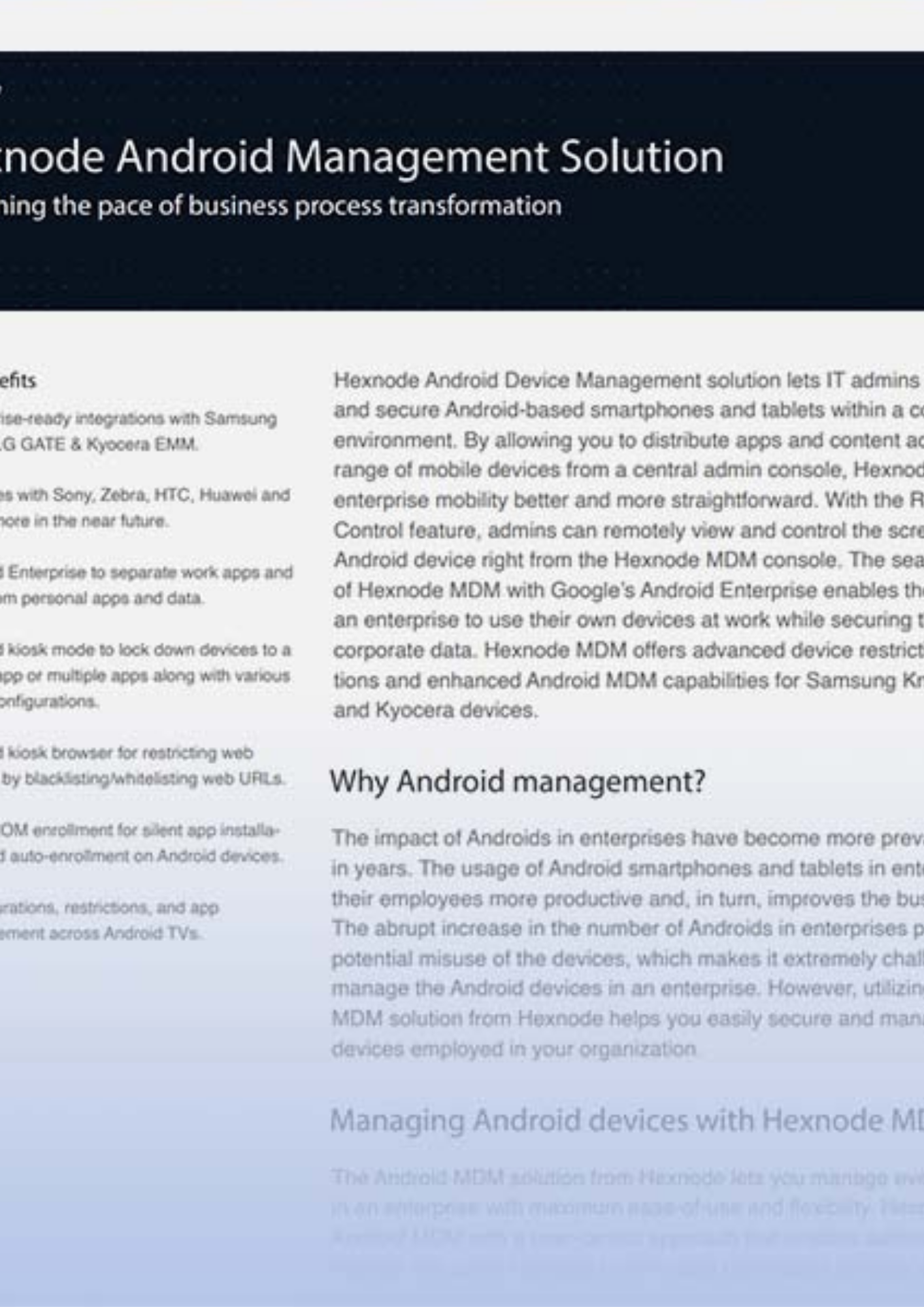 Featured resource
Download the Hexnode Android management datasheet
Check out how Hexnode's comprehensive Android management features meet modern day enterprise needs.
Download
Android 12 privacy and security features
Android seems to have taken a few steps further with privacy and security this time. Enterprise security has always been on the radar, but this time considerable focus has been given to overall privacy and security.
Notification bar alerts:
Know when an application is using your microphone or camera. From now, an icon will pop up on the notification bar when you launch an app. This will show whether the camera or microphone is being used. Also, you can block access to both in the quick settings if you don't want any apps to use them.
Approximate location:
A pretty interesting feature. With this you're in control, whether to share the exact current location or share only an approximate location. And the best part? This can be done for individual apps and not just the entire system. Approximate location will only give a rough idea about your current location, probably 100 meters off of the accurate one.
This could be used when you don't want a particular app to track down exactly where you are right now. Also, most applications won't need the precise location all the time.
Privacy Dashboard:
The privacy dashboard in Android 12 will give users an idea about the number of times applications accessed the microphone, camera, or location services. Taping on any of the service given, will show what all application used it and when, giving an entire timeframe of access.
This can come in handy to find what all applications are secretly using the microphone, camera or location, and when they are using it. Then, users can simply deny the permission for those applications, if they prefer not to share access.
Private Compute Core:
Android 12 will feature a private space to handle all the sensitive data, called private compute core. Now what is sensitive data? Data required for certain AI and machine learning algorithms.
Features like Live Caption, Now Playing, and Auto Reply collect personal data, including what you type and what you hear. With Private Compute Core, this data will be separated from the rest of the OS. That means this data won't be shared with other apps.
Android enterprise privacy and security enhancements
Password complexity: From now on, the complexity of password can be set using the pre-defined levels of high, medium or low. This means you don't need to rack your brain for setting complex password rules anymore. You can easily set the password complexity to any of the pre-set levels mentioned.
Unique enrollment IDs: Instead of using device identifiers like IMEI, now IT admins can use device-specific enrollment IDs. What this means is that the IT admins won't be able to track the device once an employee leaves the company. When the same device gets re-enrolled, the IT admin would know as the enrollment ID is immune to factory resets.
Network logging: Admins can retrieve network logging in work profile, to give organizations more control over the work data flow. However, they can't monitor network logging in the personal space.
5G Network slicing: IT admins can slice 5G networks and give connectivity to work apps in a user-owned device, or all apps in a fully owned device.
App permissions: Users can allow (unless denied by IT admins) or deny permissions for their work profile apps. Users can edit permission settings for camera, microphone, location, body sensor and physical activity.
Restricting input methods: On company owned devices, you can now restrict users to use only the system input methods. This provides additional security as the risk of third-party applications tracking input data can be eliminated.
Disable USB: Another feature for company owned devices which enhances data security. Admins can now disable USB on devices, except for charging purposes.
The bottom-line
Android 12 update brings a slew of new features to the table, starting from the design updates to privacy and security features. Even though the focus is mainly on consumer side, enterprise features also have been given considerable attention. Hopefully the update will be made available for most vendors in the Q1 of 2022.
Manage your Android devices effortlessly
Combine Android Enterprise with Hexnode's advanced endpoint management features. Get your free trial now!
Get a free trial