The ongoing pandemic has caused a sudden surge in the demand for managed devices over the last couple of years. This is mainly due to the fact that businesses have restructured their working models, causing a shift from work from office scenario, to work from home or remote locations or more precisely the 'work from anywhere' concept. But what about the devices? Won't it be too hard to configure each and every device at remote locations? Well not really. That's where zero-touch comes into play. Zero-touch streamlines the whole process of enrolling devices in bulk. In this article, we'll see how zero-touch deployment can be achieved in Macs.
Zero-Touch with Hexnode
What is Zero-Touch?
The term zero-touch suggests automation. And here it means automation in device enrollment or provisioning. With zero-touch, you can automate device deployment lightening the load on IT admins, and making it easier for employees. It makes the devices ready-to-work right from unboxing.
How does it work? Basically, when a user turns on the device for the first time and connects to a network, the device connects to a DHCP server. The Dynamic Host Configuration Protocol (DHCP) server provides IP address, name of the file for configuration, and its location. The device then downloads the file, installs and sets up the device configuration settings.
Why Zero-Touch?
Before, IT admins were involved in each aspect of provisioning and configuring hardware resources. Now, with zero-touch you don't have to sit for hours writing commands and imaging the device. The perks include-
Simple set-up, making the device ready to work within a matter of minutes. This saves a huge amount of time as compared to the traditional method. With the old set-up, you'll have to configure the device with an account, network connection, necessary restrictions, applications etc. But now, even the initial set-up of devices can be streamlined, saving time and effort.
Eliminates human errors, as you don't have to write the code each time. Now this is a major perk. As you don't have to set up each device individually, it not only saves time but also eliminates the chance of having errors. Once the file is written, coded, and made bug-free, it will be available for all the devices to use. It also removes the boring repetitive task.
Re-provisioning and fixing errors can be done easily. That is, if by any chance there is a need to change the settings, maybe due to an error or due to a change in the features required, it can be easily re-provisioned and applied uniformly to all the devices.
What Zero-Touch Looks Like for Macs
With macs, zero-touch enrollment can be made possible with Apple Business Manager (ABM) and a UEM (or MDM) of your choice. ABM consolidates Apple's DEP and VPP. DEP, is Apple's automated device enrollment platform, which allows bulk enrollment of devices by applying necessary configurations. VPP on the other hand enables businesses and educational institutions purchase and distribute apps in bulk. With ABM consolidating both services, we can manage both using a single platform. And what does a UEM solution do? it provides seamless device enrollment and management options, by integrating ABM features with its advanced settings.

First, you need to enroll your organization in Apple Business Manager. Click here to go to the ABM page and click on Enroll now. Then you'll be asked to enter organization details like organization name, D-U-N-S number, phone number, website, and other related information. From here, it can be put into just three steps.
After you set up an ABM profile for your organization, pick a UEM solution like Hexnode UEM, and integrate it with your ABM. For this-

Log in to your business manager account
Navigate to Settings>Device Management Settings
Provide an MDM Server Name and upload the Certificate file of your UEM provider, click on save and then click on Download Token.
Upload the Token in Hexnode portal.

Next you will have to assign the devices that you need to enroll to your UEM solution, inside Apple Business Manager. You can do this by entering the serial number or order number of the device in the case of single devices. To assign devices in a bulk, there is an option to upload a CSV file.Then, in Choose Action select assign to server from Perform Action drop-down. From the MDM server drop-down, choose the server you want to assign the devices to.
Now that you have assigned the devices to the server, enroll the devices clicking on "Auto-Enroll Devices".
After these steps, your devices will be enrolled with your UEM solution. When the user turns on the device, they'll be asked to enter some information. These include country, language, preferred network etc., and then the configurations will be automatically applied to the device.
Zero-Touch Enrollment for Macs in Hexnode UEM
Hexnode supports DEP enrollment for Apple devices, that is iOS, macOS, and tvOS. Follow these simple steps to enroll your Mac devices with Hexnode, with zero-touch-
Log in to your Hexnode portal
Go to Enroll > Platform-Specific > macOS > Apple Business/School Manager. You can also configure DEP with Hexnode from Admin > Apple Business/School Manager > Apple DEP.
Click on add DEP account
Enter a name and download the certificate file
Now, just follow the steps mentioned earlier and upload the token in Hexnode and set up the following configurations-
Add as pre-approved device: Enable this option to add the DEP devices as pre-approved devices.
Default Configuration Profile: Select an already created DEP profile, or you can also create a new DEP configuration profile.
User authentication: Choose the type of user authentication required. You will have the following options to choose from:

Use global authentication settings: When this option is selected, the authentication mode as selected under Enroll > Settings > Authentication Modes is considered.
No authentication: When selected, the admin must choose the Domain and Default user to assign a default user for the devices.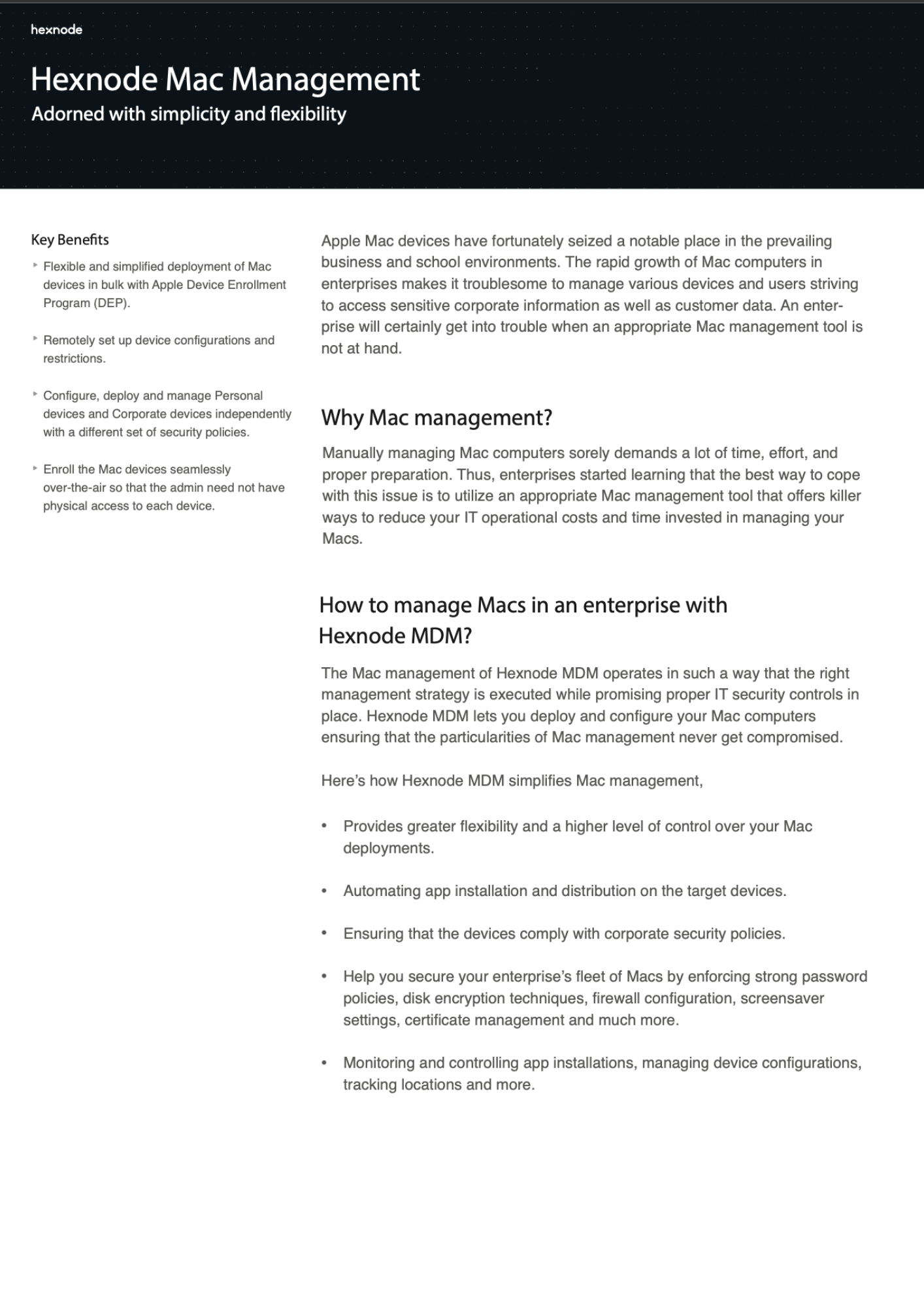 Featured resource
Hexnode Mac management
Managing the large fleet of enterprise Mac devices can be tedious without an effective device management solution. Download the datasheet to learn more about Hexnode's Mac-specific management strategies.
Download datasheet
The Bottomline
Zero-touch provides a convenient and time-efficient way for enrolling macs in bulk, allowing users to get things started within a matter of minutes. Replacing the traditional method, which requires a great deal of time and effort with doing repetitive tasks, zero-touch is indeed a boon to the IT admins.
Securely manage your enterprise devices
Start managing your devices with Hexnode's advanced restrictions and management features
Get a free trial