Beginning of iPads
Apple iPad is not just a device that looks and feels good. It is much more than that.
Did you know from Q3 2010 to Q3 2022, iPads accumulated a total revenue of a whopping 7.22 billion USD?

– Source Statista
Since their release in 2010 organizations have seen iPads as a massive opportunity to increase productivity for their business. A survey showed that more than 80000 companies use ipads at work, and this number keeps growing each day.
Benefits of iPads
New business-oriented applications are being added to the app store day-to-day. A business that does not consider iPad at work runs the risk of missing out on such applications.
It works with strong tools you're already acquainted with, such as Adobe Photoshop or Microsoft Office, but with the extra benefit of a touchscreen. Furthermore, iPads allow you to work on and give presentations without bringing a laptop to the client's location. This additional functionality on such a small and lightweight gadget is exceptionally beneficial for professionals traveling most of the time.
With the Slide Over or Split view feature, you can use multiple applications on an iPad at the same time and switch among them. This is highly useful for working professionals since it allows them to multitask and swiftly move between tasks as needed.
Apple lets you convert written notes to typed text on an iPad. Furthermore, you may also sketch flawless designs by hand or try 3D creation independently. These operations are incredibly convenient when you use the Apple pencil.
You may also use your iPad for signing documents or creating checklists on the go.
iPad allows organizations to provide better support to their clients by using service desk applications that helps handle service requests and access client information on the move.
If so many benefits exist, what stops all companies from implementing iPad at work?
Of course, it is not a bed of roses. It has its own set of challenges…
Challenges faced while introducing ipads at work
iPads and Apple pencil cost significantly higher than the other tablets in the market. So, the initial investment for deploying iPads at work can be a lot.
If the employees bring personal iPads to work, the biggest challenge is to ensure that the corporate data is not compromised. Admins must control and monitor the flow of information between managed and unmanaged apps & data.
Even if employees are familiar with how the device works, they might not know how to connect to the company's network. Once connected to the network, they might also need help with several applications and unprecedented issues that might come up.
One of the significant challenges that IT admins face is bandwidth hogging. Employees use the corporate network to stream videos or calls for non-work-related purposes.
Managing an employee-owned iPad differs from a standard IT-supplied one. This means that IT administrators will need to adopt a variety of device management and security solutions depending on who owns the device (the organisation or the employee).
If these challenges are taken care of, iPads help make certain work easy. For example, designing or using Apple classrooms at schools.
But how does one tackle all these challenges at once?
Just relax! GIF from Wentworth by tenor
Every problem has a solution and we are here to give you just that.
A UEM solution for your iPads at work
Implementing a UEM is the best way to tackle these challenges and maximize productivity. So, let's look at what a UEM offers that helps to bring out the best in the employees and their devices.
Password policies can be pushed from a UEM console to the devices that would prompt users to set their passwords or change their existing passwords on the devices. Furthermore, IT admins can set the complexity of the password such as length, number of special characters, etc. Users will have to comply with the criteria while setting a new password.
And there is more… It goes on and on…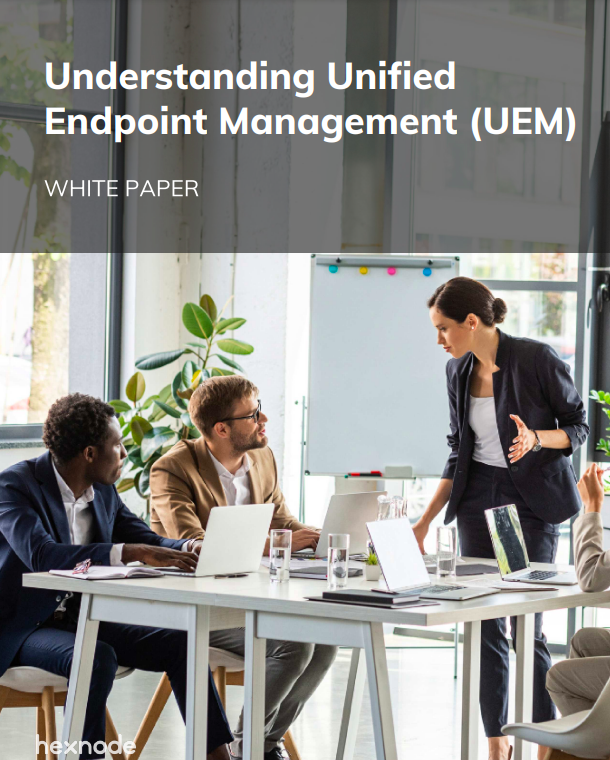 Featured resource
Understanding Unified Endpoint Management (UEM)
Managing hundreds of corporate devices is not an easy task for an IT team. Unified Endpoint Management (UEM) solutions have made the whole device management process simpler for enterprises and the IT admins.
Download the whitepaper
Conclusion
Even though there are multiple tablet vendors, Apple iPads continue to lead the tablet market, having nearly 31% of the market share as of the second quarter of 2022. As we read above, implementing iPads at work has its own set of benefits and challenges. However, if organizations use a UEM solution, the benefits outweigh its challenges. One can enjoy all the benefits of the iPad, such as the ease of use, flexibility and versatility, along with the additional security from the UEM. This mitigates the risk of cyber-attacks and security breaches and positively impacts the workforce productivity and helps running the business smoothly.