The growth of mobile devices has been huge in the past few years. Mobile phones are now being used for everything, from making calls and chatting with your friends on WhatsApp to accessing important organizational documents. Almost everyone who uses mobiles uses at least one application a day. It's no exaggeration to say that using smartphones without apps is practically impossible.

Simplify app management with Hexnode UEM

With the advancements of apps came vulnerabilities. As more and more organizations are using mobile devices to take care of their everyday chores, more corporate data gets accessed through mobiles apps. These mobiles apps become access points for data breaches. So, it is of prime importance to secure these mobile apps and app wrapping does just that.

App wrapping means adding an extra layer of security to mobile apps without altering any other feature. This means that the functionality and the appearance of the app remain the same as its normal counterpart but is more secure. Since all the main aspects of the app remain the same, the people using the wrapped app will feel normal, a factor that distinguishes app wrapping from other mobile app management strategies. Once the technology to wrap an app is implemented, the wrapped app can be hosted on an internal store or sent to devices.

As mentioned earlier, more offices are now allowing the use of mobiles for office use, so more corporate data gets accessed through apps. So, app wrapping is most commonly used by organizations that want to secure their data which is getting accessed through mobile apps.
How is app wrapping done?
App wrapping is most commonly done in 2 ways: using SDK from an app or using an EMM or UEM vendor that allows IT admins to distribute APIs through which management policies can be applied. Through the use of app SDKs, apps can be wrapped during or after the development of the app, all that has to be done is to add executable codes to the app via the SDK.
As for EMMs, most of them provide an additional tool called an App Wrapper tool to wrap the applications. Using this tool, IT admins can specify which all apps are needed to be wrapped and then specify management policies to the device through the tool itself.
What can app wrapping offer?
Through app wrapping, IT admins can get control of all apps that are used by the employees in that company. You can send app management policies to wrapped apps (keep in mind that these policies are applied only to the app and not the device). Mainly 3 types of policies are sent to the wrapped app:
Security policies: – These policies are applied with one goal in mind and that is the security of the data accessed through apps. Security policies allow IT admins to specify app settings to define whether the apps are allowed to access corporate data or not and if users can move files from their default location and so on. Security policies also enable app data wiping, jailbreak detection, app-level integrity checks, etc. These features help organizations make self-defending apps that are capable of securing data access through them.
Management policies: – Management policies are mainly used by IT admins to help the users use apps more easily and efficiently. Functions like specifying whom all can access the app, specifying roles to each user of the app, specifying app visibility to different roles and so on come under the management policies. Using these policies, IT admins can not only help the users but also make sure that unwanted personnel does not gain access to the app.
Analytical policies: – These policies give an insight into how the apps are being used, why the app is being used and the details of the users of the app. These policies also include features like setting time limits as well as network limits for apps, and so on. As the name suggests these policies, in short, help IT admins analyze the usage of the app.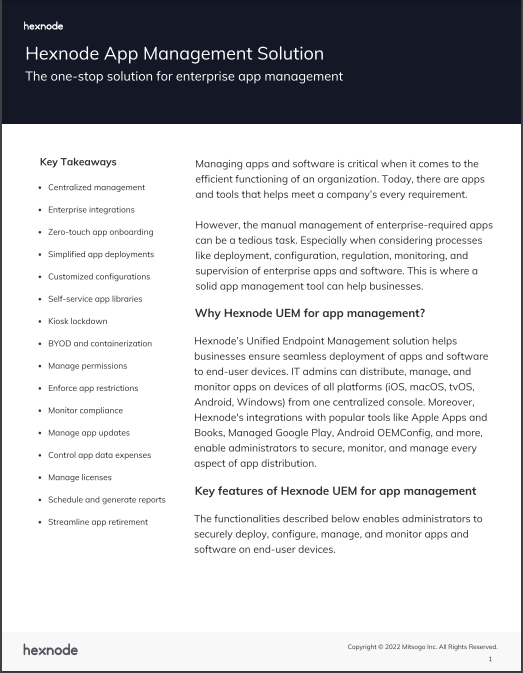 Featured resource
Hexnode App Management Solution
Learn how Hexnode's App Management solution helps businesses ensure seamless deployment, monitoring, and supervision of enterprise apps on end-user devices.
Download datasheet
The cons of app wrapping
App wrapping can help IT admins configure the A-Z of apps. Wrapped apps can be constantly monitored and kept in check. In the event of data breaches via wrapped apps, the app data can be wiped by the IT admins. Using app wrapping, access to apps can be specified by IT admins. Even though app wrapping gives this many management capabilities to IT admins, it has its downsides.
One of the most significant disadvantages of using wrapped apps is that it takes up a lot of resources. Since these apps have to be constantly monitored the apps have to be running in the background for smooth functioning. This takes up a lot of battery and may even cause the device to run slower.
Another major problem is that the app wrapping tool itself has to be protected. Even though the apps that are wrapped using these tools are safe, the tool itself might be vulnerable and organizations have to go an extra mile to ensure the safety of the tool itself.
When app wrapping is completed and the wrapped app is uploaded to an organization's internal app store, confusion may arise if the normal app is also in the store. When there are two versions of an app in the store, users will get confused about which one to install.
App wrapping can take care of data that is accessed through apps, but once data is copied to another location, outside of the app's control, it is vulnerable and cannot be managed through app wrapping. This is probably one of the biggest disadvantages of app wrapping.
Is app wrapping enough?
As advancements in mobile technology are happening at a very fast pace, app-level security is the bare minimum that can be done to counter cyber-attacks and app wrapping does just that. As more and more devices are being targeted by cyber-attackers app wrapping alone can't ensure the security of corporate data that is being accessed through mobile devices.
App wrapping with a device-level management solution like an MDM or a UEM can help organizations keep their devices and data safe and secure. As for management uses, app wrapping can be a good starting point. With the features like app config and custom app configurations, MDMs and UEMs can configure apps for both iOS and Android devices easily.