I used to be a drill operator. It was pretty boring.
There's no harm in starting an article on rugged devices in the construction industry with a construction-related pun, eh!
The construction industry is all about scale and efficiency, where various groups – the developers, consultants, architects, manufacturers, contractors, and field workers, come together to finish a project. The industry is on a constant lookout for modern and efficient techniques, to reduce costs yet deliver high quality. Enter rugged mobile devices.
Rugged mobile devices are slowly changing the landscape of the construction industry, becoming a major necessity. The construction workers depend on rugged devices, as they play a crucial role in helping the workers perform multiple tasks and operations under rough weather conditions and terrains.
Accurately tracking resources in real-time, setting up communication among different teams to improve productivity – the importance of rugged devices is immense. So, let's get into how the construction industry is gaining momentum from using rugged devices.
Rugged mobile devices in construction: What are the benefits?
The construction industry workers include the transportation staff, engineers, architects, contractors, and field workers whose jobs include inventory management, performing onsite calculations, checking on daily productivity and routine tasks, and more. Keep reading to know how rugged devices' rigid nature and other advantages over consumer-grade devices benefit the construction industry.
Adapting to extreme environments
Construction workers cannot work with a device that provides minimal protection from a cracked screen or water damage. Working in hazardous conditions that require the use of their devices, workers need phones which can withstand harsh and rigorous environments.
Rugged devices are built, keeping in mind the requirements of the industry. This includes waterproof devices, that meet Military Standard 810G, which ensures protection against shocks, vibrations, and exposure to extreme conditions like solar radiation, high altitudes, etc.
While the latest consumer-grade devices boast screen protection and water resistance, their components are still fragile and vulnerable to rough conditions. Rugged devices are designed, right from the component level, to withstand conditions that consumer-grade devices cannot handle.
Water/Liquid proof
A water/liquid proof device is essential for the construction industry, which operates around water. Rugged devices prevent the need to spend extra money on protective cases that make device usage difficult.
Different types of waterproofing exist- hydrophobic coated devices that may ensure its protection when it gets dunked in water. A completely waterproof rugged device ensures no water, cement or any other particle can enter the phone.
Rugged devices have waterproof gaskets, air-permeable membranes over the speakers, and rubber-coated screws, ensuring complete water protection. Additionally, features like Glove and Wet Touchscreen ensure not only protection of your device against water exposure but that it's fully functional when wet, allowing you to stay productive at all times.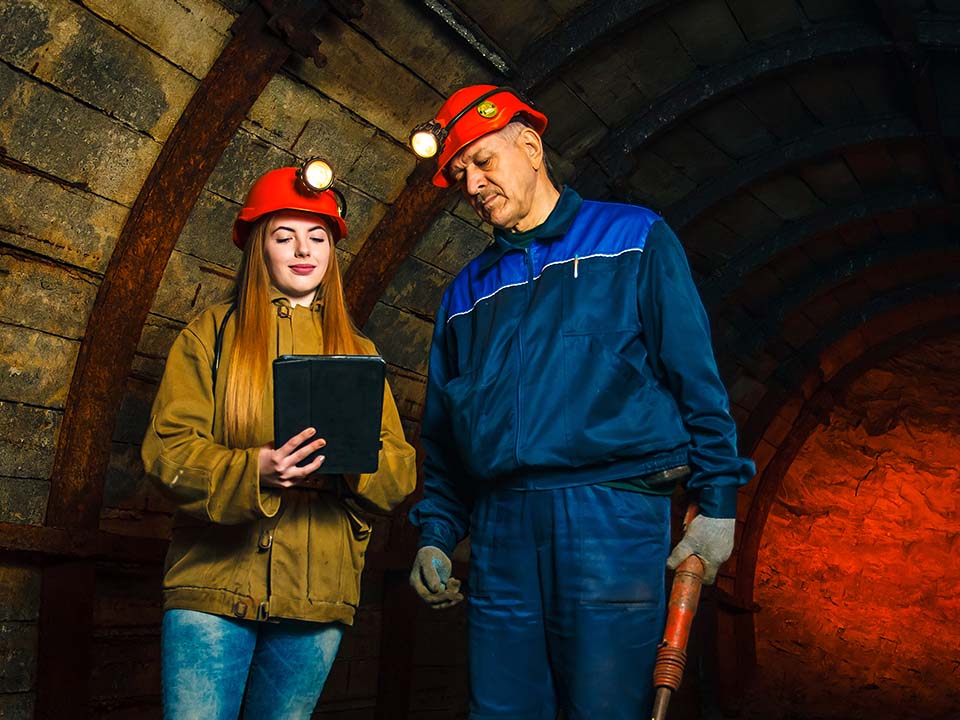 Featured Resource
Rugged Devices in Enterprises
Rugged devices are being adopted in a wide range of industries due to their ability to withstand a range of outdoor conditions. But being equipped with OS like any other endpoint, their challenges are no different from the others. Get to know about the benefits of rugged devices and learn how to secure them with Hexnode.

Download PDF
Security
Data security isn't limited to office spaces. Sensitive, corporate information needs to be protected all the way. So, rugged devices must ensure a high level of security that offers extensive security features, ensuring a secure means of communication between companies.
It is crucial that construction companies have control over remotely used rugged devices, which calls for a UEM that remotely manage, secure and monitor these rugged devices.
Communication
The construction industry is heavily reliant on real-time work updates, requiring constant involvement and communication among different groups; builders, architects, designers, engineers, and legal. From updating the blueprints to tracking the equipment, all the workers working on the project require constant communication, resulting in an improved workflow.
The communication-related features offered by a rugged device allow different groups to stay connected. Rugged devices offer Push-To-Talk (PTT) services, which are extremely affordable and useful in construction businesses relying on a walkie-talkie kind of communication between groups. In addition, features like Push-To-Message and Push-To-Locate allow constant communication between manager and their teams, even when away from the construction sites.
Tracking and asset management
Barcode scanning and RFID-enabled rugged devices can be used for picking, packing, and receiving loads. The construction industry can function paper-free, with digital records, automation of service hours, and driver logs. With rugged devices, tracking becomes easier with GPS, offering dispatching, inventory, and invoicing capabilities, allowing construction businesses to track their shipments, asset location, arrival, and departure in real-time.
Lower costs and long-term efficiency
Let's face it, businesses would ideally want to keep overhead expenses low. So, it doesn't help when your broken consumer-grade device results in lesser productivity, lost communication, and chaos.
Rugged mobile devices lower the Total Ownership Cost, when compared to consumer-grade devices, and is less likely to fail in the worksite than a consumer-grade device. Rugged devices are ideal for long-term usage without any hassle, cost less for repairs, and do not require additional accessories. So, it's a safe bet for construction businesses to consider rugged devices on a long-term basis, an investment that'll improve workflow and increase productivity.
Rugged devices used in the construction industry
The construction industry demands a waterproof, dustproof, shock-resistant, massive battery capacity device with the ability to handle construction-related software. With MIL-STD-810 and IP ratings, rugged devices have it all and more.
Now that you're aware of rugged devices' importance in the construction field, here's a list of the commonly used rugged mobile devices:
Ulefone Armor 10 – Excellent build quality with massive battery life and wireless charging.
Doogee S97 Pro – Offers laser rangefinder for estimating volumes and surface areas, all-terrain support with a long battery life.
Blackview BV9900 Pro – Gorilla Glass 5, durable and resistant to external factors with high performance.
Nokia XR20 – Dedicated emergency button, with long-lasting battery and wireless charging
Oukitel WP8 Pro – 6.49-inch durable display, with an oleophobic screen (Oil-repellent)
Ulefone Armor 9 FLIR – Offers thermal camera, sun radiation-resistance with a massive battery and extreme durability
CAT S62 Pro – Tough, yet elegant design with a non-slip rubberized TPU shell to withstand extreme situations.
Kyocera Duraforce Pro 2– Offers extreme durability with a 4K action camera (if you're into taking videos!)
Samsung Galaxy X cover Pro – Offers a rugged design with programmable buttons, Push-to-talk functionality and the screen works when wet or wearing gloves.
Why rugged device management is crucial
At this point, we can admit just how amazing rugged devices are, single-handedly changing the landscape of the construction industry, by simplifying the workflow, increasing efficiency and reducing overhead cost. However, these devices do carry sensitive, invaluable data that if lost, misplaced, stolen, or hacked can lead to irrevocable damage.
Hence, it is imperative that businesses have control over remotely used rugged devices, which calls for a UEM that remotely manage, secure and monitor these rugged devices. With Hexnode UEM, you can secure your rugged devices with its multiple functionalities- kiosk management, remote data wipe and device lock, security policies, expense and content management, containerization, password policies and so on. With the launch of OEMConfig, UEMs can deploy all the necessary device management features, without the need for integrations, allowing rugged devices to accommodate work and personal data. All of this, while maximizing data protection, thus standardizing rugged endpoint management.
Rugged devices play a crucial role in the supply chain industry as well and you can find out how, in the blog below.