Encryption is the process of converting any piece of information or data into a scrambled form. Once scrambled, only an encryption key can be used to unscramble the data. Encryption protects sensitive data from unwanted entities. From personal data like pictures and bank details to corporate data like employee details and other sensitive information about an organization, encryption keeps the data on your device safe from prying eyes.
Keep you enterprise iPhones secure with Hexnode
Even in these modern times, some people still think that just a password or a pin is enough to secure their smartphones. Well, this couldn't be further from the truth. You need more powerful measures like encryption and antivirus to keep your data safe.
In the smartphone market, iPhone is one of the major competitors and the main reason why people choose an iPhone is that they give value to users' data privacy. When a person uses an iPhone, it stores a variety of information, like pictures, contacts, emails, transaction details, and so on. This necessitates the use of encryption on iOS devices.
How to encrypt your iPhone
It's really simple to encrypt an iPhone, and it's already encrypted if it's passcode protected. To verify this, do the following: 
Go to Settings.
Then navigate to Touch ID & Passcode.
If your Passcode is turned on then scroll to the bottom. There will be a small message below the Erase Data option saying, "Data Protection is enabled".
If your Passcode is turned off, then turning it on will automatically switch on encryption also known as Data Protection.
Since encryption is based on the device passcode, it's best to have a strong passcode. It is recommended to use at least a 6-digit passcode, which is the default for relatively new iPhones, but for older ones, it might be 4-digits. It is always best to use a complex alphanumeric passcode since it is harder to crack.
What does Data Protection or iPhone encryption do for iPhone users
Apple makes use of AES 256-bit encryption for iPhone encryption. 256-bit AES encryption is considered a very strong encryption standard and can provide a great level of security for data stored in your iPhones.
Similar to other full-disk encryptions, iPhone encryption also protects data that is at rest. This means that all the data that is stored in the device is protected when the device is not in use.
When you encrypt your device, you are making sure that no unauthorized personnel gets access to your data. Without encryption, data stored in your iPhone will be in its original form. If an unauthorized person gains control of your device, all data stored on it is easily accessible.
Once your device is encrypted, the data in it is scrambled and only the decryption key can unscramble the data. This makes sure that even if the device is lost or stolen nobody can access the data in an iPhone other than you.
The encryption key is associated with the passcode when it is generated, which is how iPhone encryption works. So, when the device is locked, the data is automatically encrypted and when the device is unlocked, the key is invoked and the decryption happens automatically.
In the case of corporate iPhones, passcodes should be made mandatory. They can be made mandatory on company devices using a Unified Endpoint Management solution like Hexnode. By enforcing a passcode policy for iPhones, IT admins can make sure that devices are encrypted and secured with a strong password.
Things to know before enabling iPhone encryption

 
Despite the fact that encryption has a lot of advantages, they have some drawbacks. Some of these are:
Although it is nearly impossible to open an encrypted device without the key, s

killed

hackers have defeated encryption algorithms in the past. So, it is not 100% safe. In fact, no single security solution can give you 100% protection against cyberattacks.
There is a slight possibility that encrypted devices might take a few more seconds to boot up compared to unencrypted devices. There might be a slight reduction in the processing speeds too. These reductions are usually negligible and remain unnoticed.
A major flaw with iPhone encryption is that, once the device is unlocked it can be accessed by anyone with some kind (virtual or physical) of access to your device. So, once unlocked an unattended iPhone can pose a threat to data security.
iPhone encryption takes care of data at rest only. This means that the data that's in transit is completely vulnerable and can be hijacked by cyber-attackers.
Some other safety measures you might want to consider along with iPhone encryption
So, by now it is pretty clear that even though iPhone encryption is a really effective tool, there are other tools and tricks you can make use of to make your iPhone more secure. Some of these are:
Erase Data
This feature is designed as an extreme measure to keep the data in your iPhone secure. The Erase Data feature wipes the entire device if a wrong passcode is entered ten times. Those who find a hard time managing passwords should strictly stay away from this feature.
Encrypt iTunes and iCloud backup files
iPhone encryption deals only with the data stored in the device. Backups made by the user are not encrypted and have to be encrypted separately. If not encrypted these files are stored in their raw form and can become easy targets for cyberattacks
Shorten the passcode delay time
There is a brief period of time between when you press the lock key and when the device is locked during which the device is completely unprotected. Apple allows users to minimize this time. To do this change the "Require Passcode" setting to "Immediately". 
Remote data wipe using iCloud and Find My iPhone
If you have enabled Find My iPhone feature on your iPhone then in case your device gets lost or stolen, iCloud account can be used to remotely wipe the device.
Device management tool – A UEM
A UEM is extremely useful for corporates deploying a lot of devices. UEMs like Hexnode gives IT admins the power to remotely manage and configure devices using a single console. From enforcing a strong password to blocking unwanted websites and apps, Hexnode lets IT admins manage every aspect of an iPhone.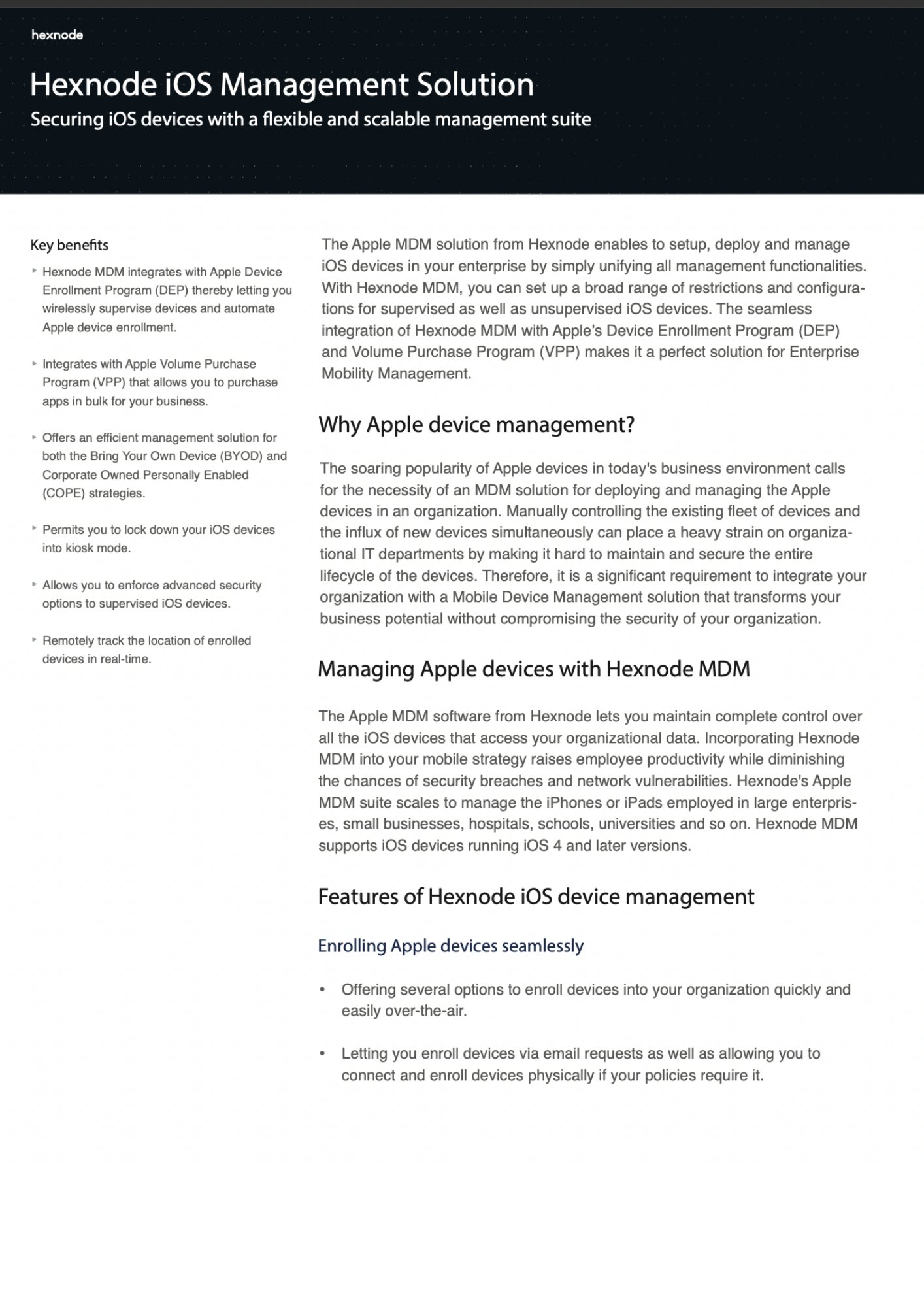 Featured Resource
Hexnode iOS Management Solution
Hexnode UEM enables you to set up, deploy, manage, and secure iOS devices in your enterprise by simply unifying all management functionalities.
Download Datasheet
Is iPhone encryption worth it?
Despite its limitations, iPhone encryption is a really valuable technology that you should utilize if you are concerned about data security. When used along with other security measures, iPhone encryption can help you secure your data very effectively.  

Sign up for a free trial
Sign up for a free trial with Hexnode and explore iOS security features offered by Hexnode.
Sign up