Identity provider (IDP), also known as directory service, is a part of the identity and access management (IAM) suite concerned with managing identities.

IDPs are the foundation of all IAMs out there and without an identity provider, IAM features like Multi-Factor Authentication (MFA) and Privileged-Identity Management (PIM) won't function as they should.

Explore Identity and Access Management Capabilities with Hexnode

IDP basically creates an identity for every person in an organization and then lets these organizations manage these identities as required. IDP can group identities based on organizational needs. Each team can be made into a group. This helps companies manage resources and employees based on their team and designation.
Why is an identity provider necessary?
Asking why an identity provider is necessary in this modern world is like asking why does an individual need an email ID. Almost every organization makes use of some kind of identity management tool, whether it is a school or a corporate organization.
IDP not only simplifies Identity management for IT admins but also simplifies access to resources for the employees. When an employee is given an identity, the organization can allow the employee access to all the tools he requires very easily.
IDP helps set up identity-based access and security which helps make sure that only the right people get access to the right organizational resources. Role-based access control (RBAC) is a subsidiary of identity-based access control.
As the name suggests, RBAC is used to restrict access to company resources based on the role of the employee. This means that, once organizations assign a particular role to an identity, they can restrict access to resources based on the role assigned to the identity.
IDP along with other IAM tools like SSO and SAML can help reduce the number of passwords managed by employees. SSO and SAML work in such a way that users need to enter their password only once to login into their IDP and then they can access a huge range of company resources without a password.
SSO and SAML work with the help of secure token exchange, where once a user logs in to their IDP, the IDP sends tokens to integrated resources notifying that the user is a part of the organization and can be granted access to the same. With the use of IAM features like MFA and 2-Factor Authentication(2FA), companies can secure employee logins.
Benefits of integrating identity providers with UEM
UEMs and other modern device management tools extend the benefits of IDP in the mobility management sector. UEMs offer built-in IAM capabilities like SSO and MFA in their products themselves.
Most UEMs like Hexnode gives the option of integrating IDPs with their mobility management suite to get the most out of both worlds. Using both in tandem offers a lot of advantages.
Group policy deployment
Group-based policy deployment is an essential feature for companies that have specific teams for specific tasks. UEM are now capable of integrating with IDPs to import organizational groupings from the IDP directory.
Using IDP grouping along with a UEM can open a whole new world of possibilities in terms of group policy deployment. IDP grouping can be done in any custom way and once the groups are finalized, UEMs lets you import the group and deploy device management policies to groups as a whole.
For example, when you need to change the Wi-Fi settings or you need to filter websites for a specific team, using your IDP grouping along with UEM policy can help you. This is much easier and faster than changing the settings individually for each and every employee.
Enforcing security measures
As previously stated, the IDP is simply in charge of handling identities; other IAM categories such as MFA and 2FA are in charge of security. Without these security measures, protecting data in employee devices is difficult.
With a UEM like Hexnode, mandate MFA for every login to the management portal. In this way, every time an IT admin or IT executive tries to access the management portal, they have to provide a One Time Pin or OTP which is sent through email ID or phone number.
Single Sign-On
As mentioned earlier, SSOs are IAM tools that can help reduce the usage of passwords as well as ensure secure logins. UEMs can help mandate SSOs and secure each login made by users. SSO can also save time and ensure easy and secure access to company resources.
Compliance
Every organization has a set of compliance standards for users and endpoints. Checking whether each and every employee is keeping up with these standards is a very tedious task if done manually.
UEM and IDP together can monitor and make sure that each individual sticks to the compliance requirements set by the organization. Once users and groups are imported from the IDP, UEMs can perform regular compliance checks, and if any employee is found violating any of the compliance standards, IT admins may be notified and corrective actions may be performed.
Hexnode and identity provider
Hexnode provides integration with major IDPs like Okta, Azure AD, Active Directory, and Google Workspace. You can import all your data from any of the above-mentioned IDPs and use them for smooth and easy endpoint management.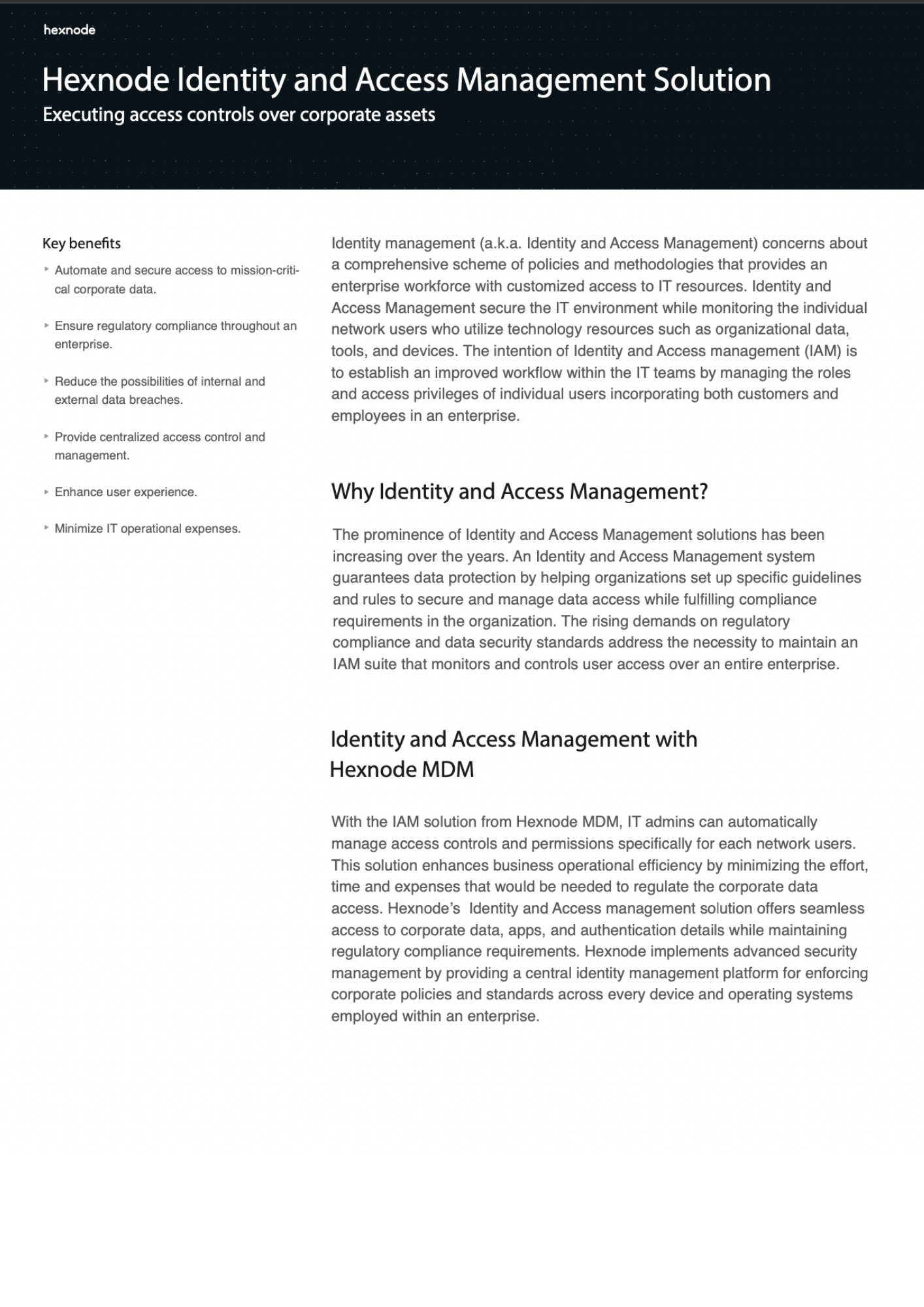 Featured resource
Hexnode Identity and Access Management Solution
Identity and Access Management secure the IT environment while monitoring the individual network users who utilize resources such as organizational data, tools, and devices.
Download datasheet
Hexnode lets organizations import groupings from the IDPs using which organizations can apply group-based as well as individual-based mobility management strategies. Hexnode can also ensure the use of MFA and SSOs for technicians.
When it comes to compliance checks, Hexnode provides tools that help you monitor endpoints and users in your organization. Hexnode also allows admins to perform remote actions on endpoints so that non-compliant devices can be locked down.
In conclusion,
Despite the fact that identity providers and UEMs are two very different tools when used together, they can be extremely useful in managing the employees in an organization. It's almost as if using these two tools together brings out the best in both of them.
IDP and UEM when used together can bridge the gap between identity management and security. These two tools can save you significant time, effort, and risk while keeping your employees' data, applications, and devices secure.
Sign up for a free trial
Sign up for a free trial and explore Identity and Access Management capabilities offered by Hexnode.
Sign up