Regulatory compliance is important in industries where the need to maintain consumer privacy and data protection is prioritized. An organization achieving regulatory compliance is proof enough for stakeholders to know that sensitive data is stored and processed according to the requirements specified by regulatory bodies. Incorporating all the laws and regulations into your operations would strengthen your reputation and make you stand out amongst competitors.
Secure your endpoints with Hexnode UEM
Sign up for a free trial for 14 days to safeguard endpoints according to your regulatory compliance frameworks.
Sign up
Depending on the industry your business operates under, you may have to be compliant with different regulatory frameworks such as HIPAA, SOC, GDPR, CCPA and PCI DSS, to name a few. Industries that most often fall under the scope of these frameworks include healthcare, financial services, energy, technology, government and telecommunications.
Prior to carrying out the controls needed to ensure compliance with these frameworks, it's important to have a proper understanding of what these frameworks are all about. This makes it easier to choose the right operational controls and strategies required to make sure adherence to the various compliance frameworks is maintained continually.
Breaking down various regulatory compliances
The total list of regulations worldwide and within the US have grown in recent years. Keeping track of all the laws and regulations your business is applicable to can be extremely confusing at the beginning. Before you commit spending all your time and efforts in improving your IT security structure, you need to have a clear picture of the scope of your organization i.e.; the industry under which your business operates, your clients and the geographical regions of your business. The purpose of these frameworks is to make sure organizations are fully aware of the responsibilities they hold in processing and managing business and client sensitive data.
Some of the most widely followed compliance regulations include:
GDPR
GDPR replaced the old data protection laws drafted during the 90s. Different member states within the EU had their own laws governing the way in which data of users should be processed and managed. It harmonized the various data privacy laws and added in more protection guidelines and granted privacy rights to individuals. GDPR changed the way in which businesses could handle the data entrusted to them. Businesses were now held more accountable, and organizations found to breach the rules stated within the framework were subjected to large fines and reputational damage.
HIPAA
The Health Insurance Portability and Accountability Act (HIPAA) paved the way for healthcare organizations to securely manage protected health information of patients. Passed in 1996, the act was first introduced to ensure employees continued to receive insurance coverage when unemployed. It also brought in various standards to improve the daily operations of these organizations and cut down additional workload.
HIPAA introduced various rules that act as guidelines for organizations to implement the right measures to secure sensitive health data, some of which includes the privacy rule, security rule and breach notification rule. The Health Information Technology for Economic and Clinical Health (HITECH) passed in 2009, encouraged healthcare organizations to adopt electronic record keeping. It also played a role in the increased adoption of technology within healthcare organizations to meet the various requirements stated within the HIPAA framework.
SOC
Systems and Organizational Controls (SOC) compliance forms a part of the American Institute of CPA's Service Organization Control reporting platform. By being SOC compliant, businesses give their providers the assurance of having the right amount of controls and processes in place to secure the data and privacy of customers. SOC consists of three internal control reports such as SOC 1, which deals with financial reporting according to the requirements of SOX, SOC 2 deals with ensuring the protection of customer data in cloud and SOC 3, which is a lighter version of SOC 2. The implementations of SOC 2 and SOC 3 revolve around the five Trust Principles which include security, availability, processing integrity, confidentiality and privacy.
PCI DSS
The Payment Card Industry Data Security Standard (PCI DSS) was formed in 2004 as a joint effort by Visa, MasterCard, Discover Financial Services, JCB international and American Express to safeguard user's credit card and debit card data from thefts and other attacks. Getting compliant with PCI helps businesses build a long-lasting relationship with their customers built on trust.
Standards guiding regulatory compliance
Once you get an idea of the compliance that is applicable to you, it's time to start documenting and implementing all the policies and controls You need to ensure compliance with the applicable regulatory framework. Starting from scratch can be extremely difficult, luckily there are multiple standards guiding organizations on the various administrative, physical and technical controls they need to take up to restrict access to sensitive data and to ensure availability of the data when required. You could choose the standard you need to follow based on the maturity of your security program.
NIST
The guidelines created by the National Institute of Standards and Technology are based on the security practices documented within the policies of various businesses and publications.
ISO
The International Organization for Standardization consists of a list of controls and information security requirements organizations need to carry out to ensure the confidentiality, integrity and availability of the information.
CIS controls
The CIS security controls consists of a list of recommended practices organizations need to follow to secure devices and data.
Taking away the challenges of applying the policies with UEM
It's important to make your employees aware of the all the requirements of the compliance frameworks that are applicable to your organization. By documenting internal corporate policies, you can set the guidelines employees need to follow to ensure they incorporate these requirements in the work they do. You would also require implementing a set of technical controls to enforce the application of these requirements. Manually configuring each individual device to ensure they stay compliant with the requirements can be time consuming and opens up various possibilities for human errors to occur. Instead, you can automate the whole process and complete it in a manner of minutes by using a Unified Endpoint Management (UEM) solution. A UEM offers a centralized console where policies specific to your organization can be remotely configured and enabled on multiple devices at the same time.
You even generate reports in real-time or at periodic intervals to make sure the devices stay compliant with the policies. UEMs make it easier to deploy well-defined security measures to minimize instances of unauthorized access and modification to sensitive information.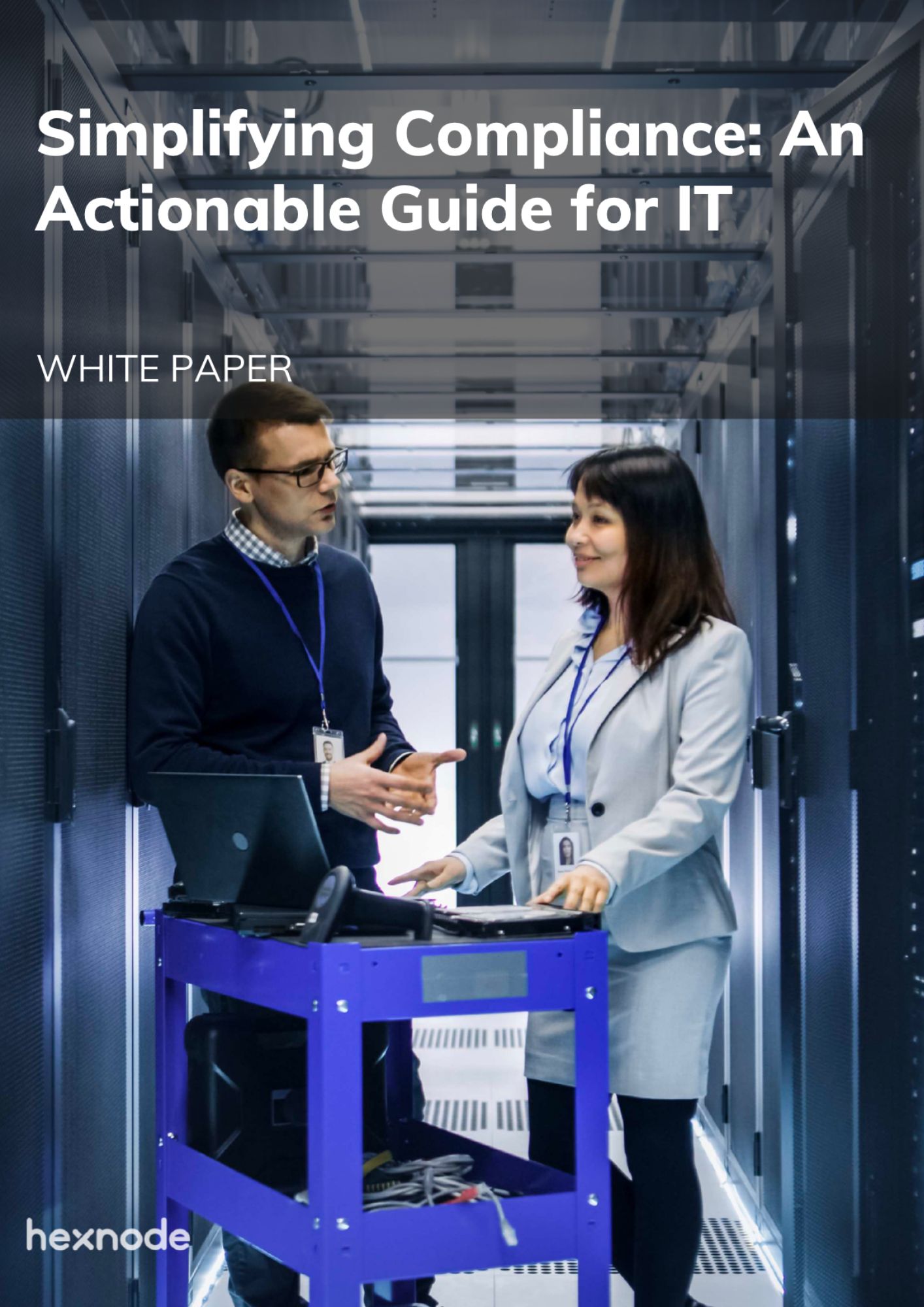 Feature Resource
Simplifying Compliance: An Actionable Guide for IT
Learn how UEM helps take out the complexity in compliance by automating several processes to secure endpoints and data.
Download whitepaper
How UEM helps businesses be compliant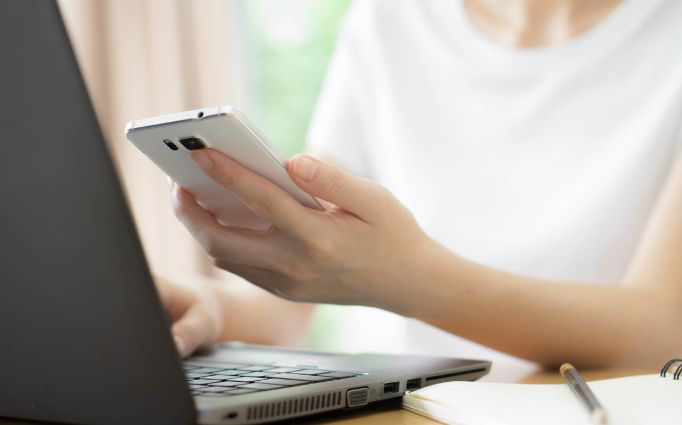 Making all endpoints secure
Adapting the use of technology and various tools reduces the burden on your IT team to strengthen security and lessen any administrative difficulties you may encounter during your daily operations. Some of the ways in which UEM helps in endpoint security include:
Conclusion
The cost of not meeting the regulatory compliance standards is high. The resulting financial impact does not just stem from the penalties you have to pay, but it is rather a cumulative sum of the reputational damage, productivity loss, and business disruption you would encounter by not complying with the standards.
If your organization is just starting out, it's best to have a clear idea on the compliance frameworks that would be applicable to you. Decide on the controls you need to implement to ensure continual compliancy and choose tools that help rather than hinder all the processes you need to take up to improve your security implementations in the long run.