July 23, 2020 at 9:44 am
#7617
Thomas Specter
Hi Kason,
Thank you for reaching out to us.
With Hexnode, it is possible to notify the admin when an enrollment request email fails to be delivered at the target location. This option can be enabled under Admin -> Notifications.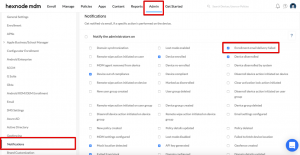 Hence, you can enable this option, scroll down on this page, and save the changes made.
Cheers!
Thomas Specter
Hexnode MDM