What was once a bulky box with limited functionality is now a slim panel with more features than you might realize. Yes…TVs have advanced significantly in the past ten years.
We're way past TV being just an entertainer. Naturally, there are still features that set one TV apart from another.
Basically, smart TV adds an entire operating system (based on the brand) to your TV and makes it somewhat of a computer. Through this, the users will get more features and content to watch and enjoy!
An Android TV is a smart TV with Android OS features. In addition to offering essential TV features, Android TV gives customers a great user experience using Google, YouTube, and similar apps and websites.
Manage Android TVs in the enterprise with Hexnode UEM
How did Android TVs spread to the business world?
Even though there are many streaming services available, Android TV applications are becoming more popular. Around 40% of smart TVs are powered by the Android TV operating system. Therefore, businesses have every incentive to invest in an Android TV app with this outstanding market share.
The main features offered by Android TV that makes them stand out are:
Google Assistant (Voice control): The advantages the Assistant offers businesses include availability, fresh mode of interaction, global usage and much more…
Google Play and Comprehensive Content: This feature ensures a safe platform by prohibiting and defining contents which can be inappropriate for the users or enterprises.
Chromecast Built-in (Screen Mirroring): This helps in conference room displays and seamless connectivity.
Moreover, a number of the leading makers of Smart TVs, like Sony, Philips, Hisense etc. are constructing their TVs using the Android operating system. This demonstrates that Android TVs have a wide audience, which gives companies a reason to create a TV app based on it.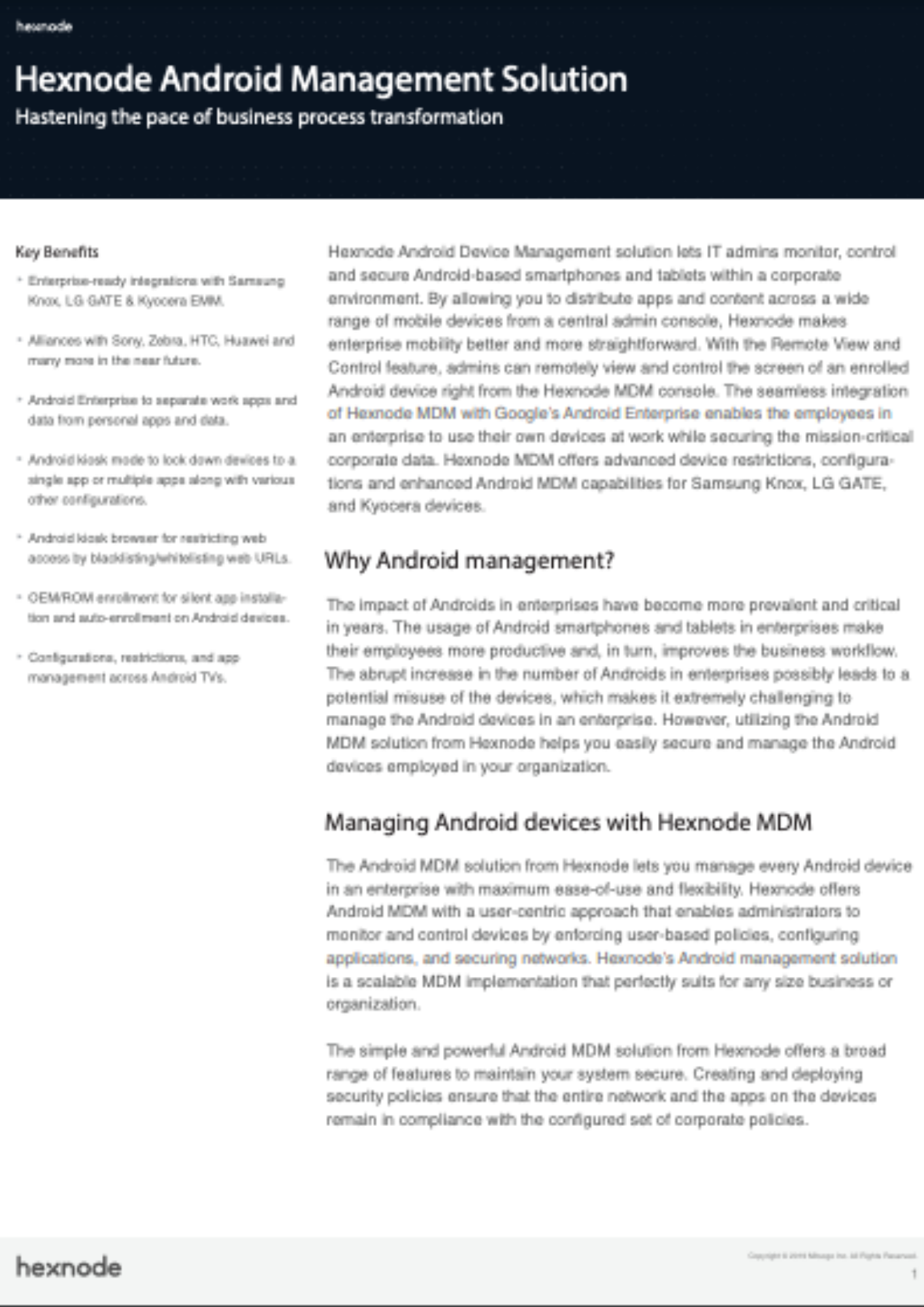 Featured resource
Hexnode Android Management Solution
Get started with Hexnode's Android Management solution to improve efficiency, increase productivity, save time and overhead costs of managing your corporate devices.

Download datasheet
Why are Android TV management solutions required?
The industry anticipates a trustworthy MDM for Android TV devices in particular because of the growing global popularity of smart TVs. Android TV management solution provides technology for IT admins to monitor, control and safeguard the devices from a single interface.

Organizations can take advantage of the flexible, high-quality display of Android TVs in conference rooms and digital signage. Moreover, they can make the most out of them by placing them in various locations, including waiting rooms, large offices, and transportation hubs, with the help of various MDMs mentioned below.
Top Android TV MDM Solutions
Are you confused with the different MDM solutions that can help you to control your Android TVs?
Well, we made a list of them to help you out! Let's have a look at the Top 5 Android TV MDM solutions:
1. Radix Android TV Manager
Radix is a pioneer in cutting-edge device management solution. With Radix Android TV Manager, IT can assist in maintaining and protecting smart TVs. The Radix Android TV Manager is a solution built specifically for telcos (telecommunications company), operators, and providers that enables you to manage your fleet of Android TV devices.
The cloud-based Radix Android TV Manager enables immediate connectivity and access to thousands of fleet devices in its network. With Radix MDM, help desks, IT managers, and project managers can manage and assist thousands of device owners centrally and from any location.
The following are some of Radix's main features:
Centrally control all device updates, OS settings, and apps
Take remote control over devices for assistance
Automatic, time-based, and OTA firmware update
Create Geo-fences and device location perimeters
Broadcast alerts and notices to all or selected devices
Analyze device usage to reach informed conclusions and more…
Pricing: There are three options: VISO Standard, Professional and Premium. The standard pricing starts from $11.50 per device per year.
2. Scalefusion
It is primarily designed for IT teams to manage and protect Android devices, configure restrictions, app permissions, corporate settings, and deploy devices quickly. Scalefusion Android MDM makes it easier to configure Android TV boxes and Android TV for digital signage. The following functions are remotely accessible with Scalefusion:
Android TV kiosk mode
Content management
Kiosk browser management and
Digital signage feature
Pricing: There are three options: Starter, Business, and Enterprise. Its price ranges from $2.00 to $4.00 per device per month.
3. Headwind MDM
Developers and IT administrators may use the open-source Headwind MDM solution to deliver Android apps to business devices. When installed as an ordinary app, Headwind MDM can function on Android devices. However, it will have fewer functions because it cannot install silently and update third-party applications.
However, it is possible to install Headwind MDM on devices like TV boxes. The launcher has to be preloaded in the device firmware and signed with system keys. Its free edition includes capabilities including an open-source server and agent, self-service installation, remote control conformation, manual device configuration, and a free LetsEncrypt certificate.
The MDM software does have a disadvantage, which is challenging to install on a user's personal device since business and personal data must be separated. Headwind MDM is only meant to be used with Android devices that are owned by businesses.
Pricing: There are three options: Cloud, Premium, and Enterprise. The cloud price range starts from $19.90 per device per year.
4. Esper
It was challenging for Esper to include Android TV devices in the Android fleets. Although they are appealing due to their low price, it may be difficult to find the right devices that are straightforward to operate in dedicated device situations.
Esper often collaborates with AOSP and even provides a customized version of Android for use with mobile devices like smartphones and tablets. They are aware of the Android TV products that work and don't work since they have tested them in the device lab for Esper qualification.
Characteristics of Android devices validated by Esper include:
Application and device compatibility
Managed OS updates
Remote control and debugging
Pricing: starts at $4 per device per month and they also offer custom pricing for their customers for custom enterprise solutions.
Hexnode UEM allows us to control any Android TV that are version 4.1 or later. Businesses can rapidly eliminate security risks and guarantee a safe and effective environment for their corporate Android TVs using Hexnode's Android TV management solution.
Businesses can manage the entire lifecycle of Android TVs using Hexnode, which includes,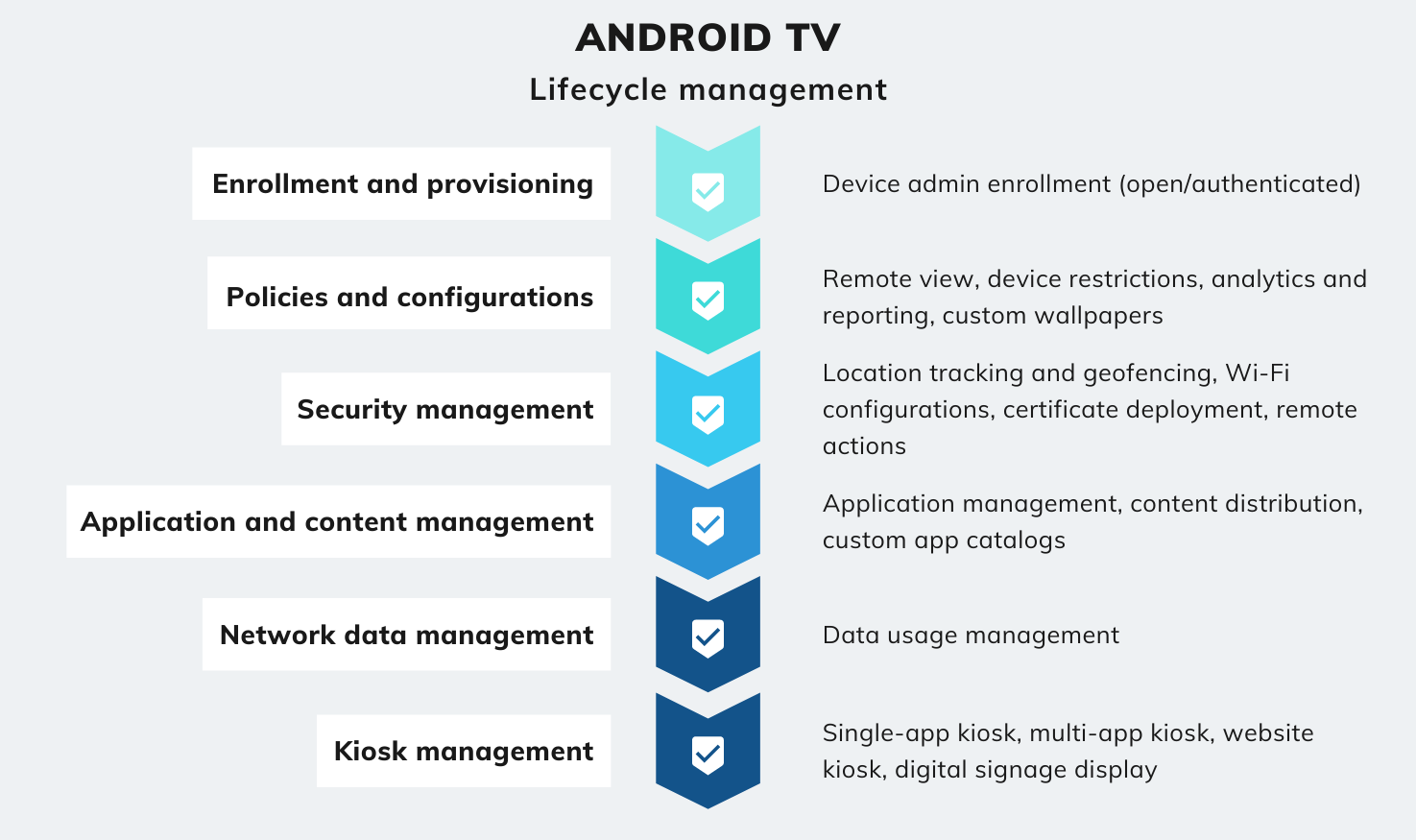 Android TV lifecycle management
Pricing: There are five options: Express, Pro, Enterprise, Ultimate, and Ultra. The Express pricing tier starts at $1.08 per device per month.
Final insights
Rethink research predicts that Android TV-based devices will pass 160 million units over the next five years. The same kind of omnipresence is what Android TV is aiming for, pushing its way into what seems to be every nook and cranny of the global TV ecosystem. So, it is clear that fleets of Android TV devices would benefit from using a dedicated device management solution.
So why the delay? Choose the best MDM solution from the list above for your Android TV and take advantage of all it has to offer.

Android TV Management using Hexnode
Sign up for a 14-day free trial and explore Hexnode UEM's Android device management capabilities.
Try out now
Disclaimer
All product and company names are trademarks™ or registered® trademarks of their respective holders. Use of them does not imply any affiliation with or endorsement by them.