There's no denying the fact that AirWatch, or Workspace ONE as it is known now, has been a front runner in its field. AirWatch initially focussed on the management of ruggedized devices. With the launch of the first iPhone, the co-founder of AirWatch, John Marshall being the true visionary that he is, recognized the potential and shifted the focus to smartphones. This tactical move led to AirWatch becoming the global leader in Mobile Device Management (MDM) back then.
A lot has changed in the product over the years, especially after the acquisition by VMware. The MDM market has evolved into Unified Endpoint Management (UEM) and now accommodates a larger number of vendors. The CEO of VMware, Pat Gelsinger, despite his best efforts has not been able to hold down the competition. In fact, Workspace ONE might no longer be the best option for your enterprise. In this post, I'll explain in detail why I'm making this statement and I'll also provide you with some of the best alternatives available in the market.
Why not Workspace ONE?
Let get this straight. AirWatch is a great endpoint management tool and I don't mean to discredit the team behind Workspace ONE, but somewhere along the way they got a little over ambitious and lost focus on what the customer actually requires.
A common concern is that the Workspace ONE console is cumbersome and over complicated. Admins find it difficult to locate the features and, on most occasions, they don't require at-least a quarter of the features that they pay for. Speaking of payment, Workspace ONE is among the few elite UEM solutions and charge higher ($3.78 per device per month) than the industry average. But is it worth the money? The lack of online chat support is a major drawback. Customers, when faced with an issue, is left to raise a support ticket and wait for the response. This pulls Workspace ONE down the ladder given that most vendors provide 24*7 chat support. The product is also limited in its kiosk capabilities lacking common features like kiosk support on tvOS platform, multi-app kiosk mode on iOS devices and Digital Signage. Another downside that most people have mentioned is that the massive on-prem infrastructure of Workspace ONE is 300 times that of any other MDM.
Having said all that, Workspace ONE is in no doubt still an amazing product. However, in a competitive market, customer satisfaction fuels sustenance. Yes, we are looking for secure, zero breach ecosystems but ultimately it comes down to the experience and Workspace ONE seems to have taken a dip in that aspect. Here's a list of Workspace ONE alternatives primarily based on customer preference among other reasons.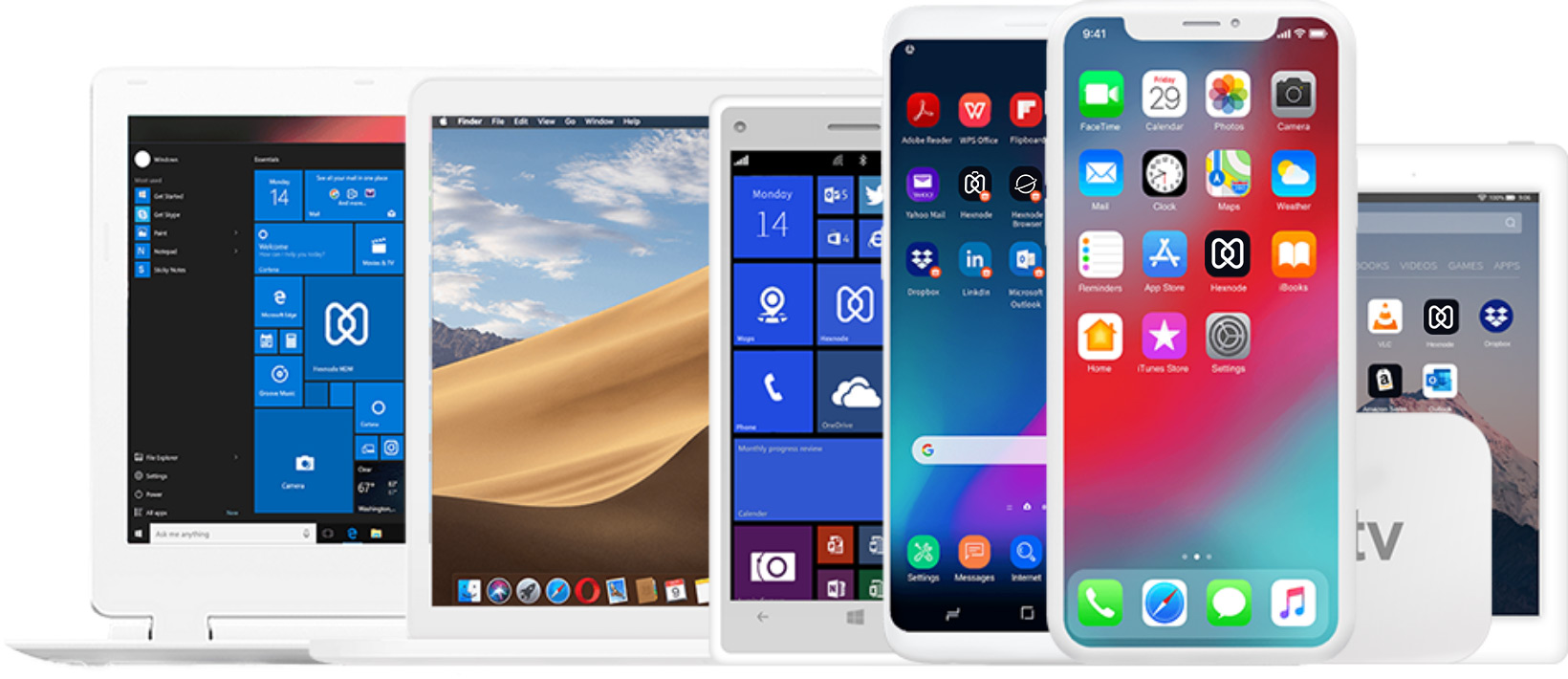 Recognised twice as the Gartner Peer Insights Customer Choice, Hexnode sure gets the popular votes. Hexnode by Mitsogo Inc, is an emerging leader in the UEM market. Since its release in 2013, the product has seen exponential growth in terms of its customer base as well as its feature set. The stellar reputation of Hexnode among its customers is attributed to the passionate and dedicated team behind it. From SMBs to Fortune 500s, enterprises of all sizes have leveraged Hexnode's prowess in Device management to drive business productivity and compliance. Hexnode is also known for its unprecedented kiosks and digital signages.
Key features:
Excellent technical support: Hexnode provides round the clock technical assistance for its customers. Be it day or night, you can count on the Hexnode team to solve your issue with the product. The team gives high priority to customer requested features and rolls them out at the earliest.
Platform-agnostic Policies: Hexnode lets you create a single policy with configurations that span across all platforms. In simple words, you can configure settings for Apple and Android devices, Windows PC and even Apple TV through a single policy. This comes in handy when you've got multi-platform devices deployed across the company.
Intuitive UI: The product has been developed in such a manner that it ensures a wholesome experience for its user. Each feature has been diligently incorporated into the User Interface such that the workflow is never disrupted. On top of that adequate help cards have been provided to guide the user through each step.
Capabilities Include:
Pricing:
Starts at $1 per device per month.
Microsoft Intune
A little late into the game, back in 2010 Intune forayed into the market with its focus on managing Windows XP and Windows 7 computers. Intune grew to accommodate Android, Mac and other Windows devices over the years. In an effort to combine traditional desktop management and mobile device management, Intune is now being coupled with Microsoft System Center Configuration Manager to form a single entity, Microsoft Endpoint Manager. Intune holds a reputation for being Microsoft centric and complex like the Windows systems, but truth be told they've been at par with Workspace ONE for the last couple of years. Intune is available as a standalone Azure service, as part of Microsoft's Enterprise Mobility+Security suite and as MDM for Office365.
Capabilities Include:
Mobile Application Management
Identity and Access Management
Secure Email and DLP
Conditional Access
Expense Management
Pricing:
Starts at $8.74 per user per month as part of Microsoft's Enterprise Mobility+Security suite.
MobileIron
Mobileiron is as big a name in the UEM market as Workspace ONE. Since its launch in 2007, MobileIron had been neck and neck with Workspace ONE for over a decade. However, over the last couple of years MobileIron has been one step ahead. MobileIron has an impeccable track record among its customers and it resonates as a Gartner Peer Insights Customer Choice.
Capabilities Include:
Mobile Application Management
Mobile Content Management
Mobile Costs Controls
Secure browsing
Secure Email and DLP
Pricing:
Not Available
Jamf Pro
This Minneapolis based software vendor primarily focuses on management of Apple devices and they are the best at it. Jamf partners with Microsoft to allow communication between Jamf Pro and Intune to establish conditional access, a standout feature in the market. Apart from the fact that the product is limited to Apple devices, the only downside I can find is its pricing (bit on the high end!). Some might also find the UI a bit too complicated.
Capabilities Include:
Mobile Application Management
Mobile Security Management
Mobile Data Management
Conditional access
Endpoint Protection
Pricing:
Starts at $3.33 per device per month for iOS/tvOS device and $7.17 per device per month for MacBooks.
IBM MaaS360
Being the first solution to provides an Artificial Intelligence approach to UEM, MaaS360 with Watson (AI agent) stands out in the crowd. Like Hexnode, MaaS360 takes pride in providing around the clock customer service and that has gained them the title of Gartner Peer Insights Customer Choice MDM as well. After the acquisition of Fiberlink by IBM, MaaS360 rapidly ventured into the Mobile Device Management arena.
Capabilities Include:
Mobile Threat Defence
Mobile Application Security
AI enabled device monitoring
Mobile Content Management
IoT device management
Pricing:
Starts at $4 per device per month.
The bottom-line: What it all comes down to
Choosing a UEM/MDM solution is a hectic process. It could take months or even years to weigh in on all the different aspects of the product and finally come to a decision. This post is aimed to let you skip at least a few steps in that process.
Workspace ONE is a trailblazer in the field. That remains unequivocal. But as technology evolves, competition is bound to rise, and it is hard not to get knocked down by the competition. Right now, it has come to a point where the competition demands recognition. Whether the hare succumbs to the tortoise is a mystery for the future.