It's that time of the year again. The 2022 edition of HexCon, Hexnode's annual user conference is up and running. With each year, the scale and reach of HexCon keeps growing. Just like last year, we have attempted to create a safe virtual space for all users, partners and customers alike to learn, share ideas and connect. With the success of last year's virtual conference, we decided to keep it going in like fashion. As the saying goes, "if it ain't broke, don't fix it."
After months of hard work and preparation, the much-anticipated event is finally underway, taking place from 21st to 23rd September, 2022. In traditional fashion, HexCon22 commenced with a keynote from our founders and board of directors. Apu Pavithran, CEO and founder of Hexnode, wasted no time to outline Hexnode's vision for the future. A vision built around routine, simplicity and growth. He went on to explain how HexCon was a part of that vision – "providing a single source of truth for today's IT obstacles".
Grow, Learn, Evolve
Our CMO, Rachana Vijayan, elaborated on the ever-growing scope and potential of HexCon, still in its infancy. "Grow, Learn, Evolve" was a key takeaway, serving as an indication of what the company's direction moving forward would be.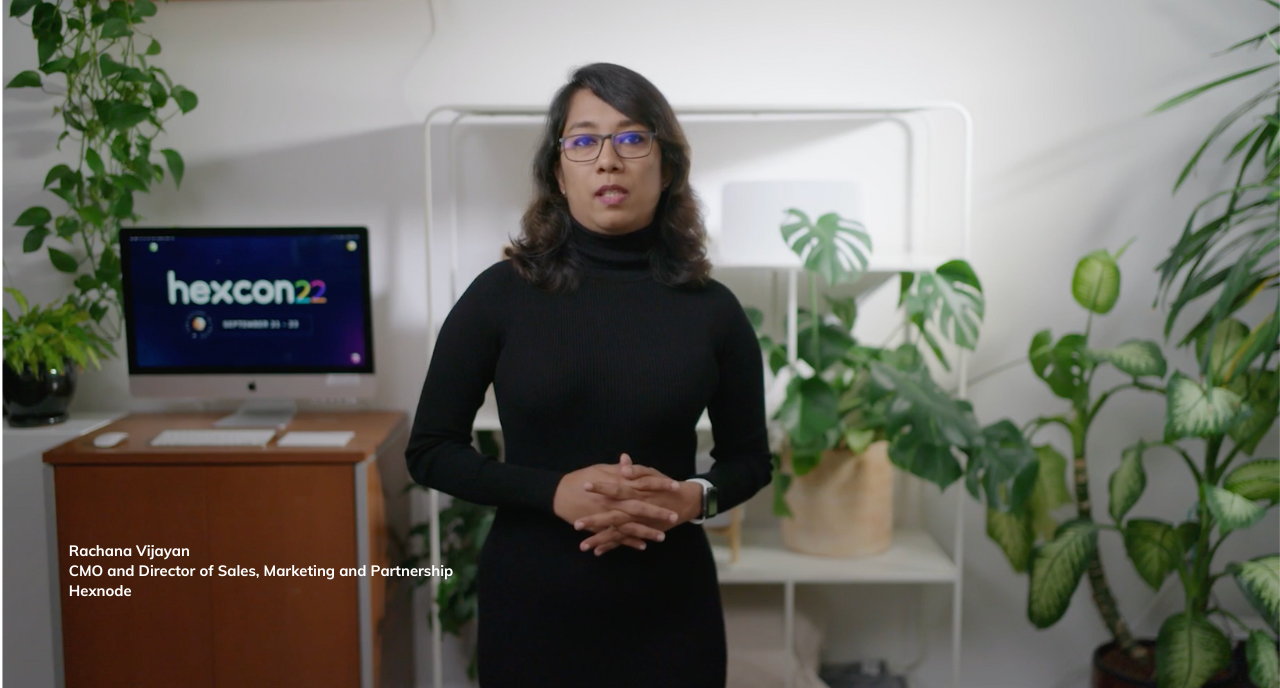 Rachana Vijayan, CMO
Rachana went on to stress on the necessity to acquire the right information. HexCon was conceptualized as the perfect platform to acquire just that. With a registration growth percentage of 111%, Hexnode had improved on the previous year's turnout, learning from previous shortcomings, and most importantly, evolve.
Rachana also announced the expansion of Hexnode Academy to allow our customers to get certified on courses relevant to their industry. The new range of courses include UEM for kiosk management, UEM for education, UEM for retail, UEM for transportation and logistics, UEM for healthcare – all free, of course.
Accolades and Awards
HexCon is an annual reminder of the strides Hexnode has made to become a notable name within the Endpoint Management industry. This year was no different, with 2022 bringing even more recognition by leading analysts and research firms.
Hexnode has received a mention in Gartner's mid-market context.

Hexnode has expanded its presence to 4 key IDC reports this year.
Leader in the IDC MarketScape: Worldwide Unified Endpoint Management Software for Apple Devices 2022 Vendor Assessment
A Major Player in the "IDC MarketScape: Worldwide Unified Endpoint Management Software for Ruggedized/Internet of Things Device Deployments 2022 Vendor Assessment
IDC MarketScape: Worldwide Unified Endpoint Management Software for Small and Midsize Businesses 2022 Vendor Assessment
IDC MarketScape: Worldwide Unified Endpoint Management Software 2022 Vendor Assessment

A Leader in G2's Leader Summer 2022 and Leader Spring 2022 grid reports.
Mentions in GetApp in the category leaders 2022, TrustRadius in Top Rated 2022 and CrozDesk in both Quality Choice Top Ranked Solution 2022 and Trusted Vendor High Market Presence 2022.
Most notably, Hexnode and Apu were proud to be awarded Best Company Leadership 2022 and Best CEOs for Diversity 2022 respectively, by Comparably. Apu stressed on Hexnode remaining a product-led company, with it being the driving force behind the ever-growing Hexnode community.
New Features!
On to the juicy stuff! COO Bijo Paulose John, CTO Sahad M and Apu all had some exciting new developments to share which will be of interest to users of all platforms. Bijo went ahead and announced the release of iOS data monitoring and user enrolment in Hexnode. With this feature already present in Android, iOS users no longer have to miss out, and can reap the benefits.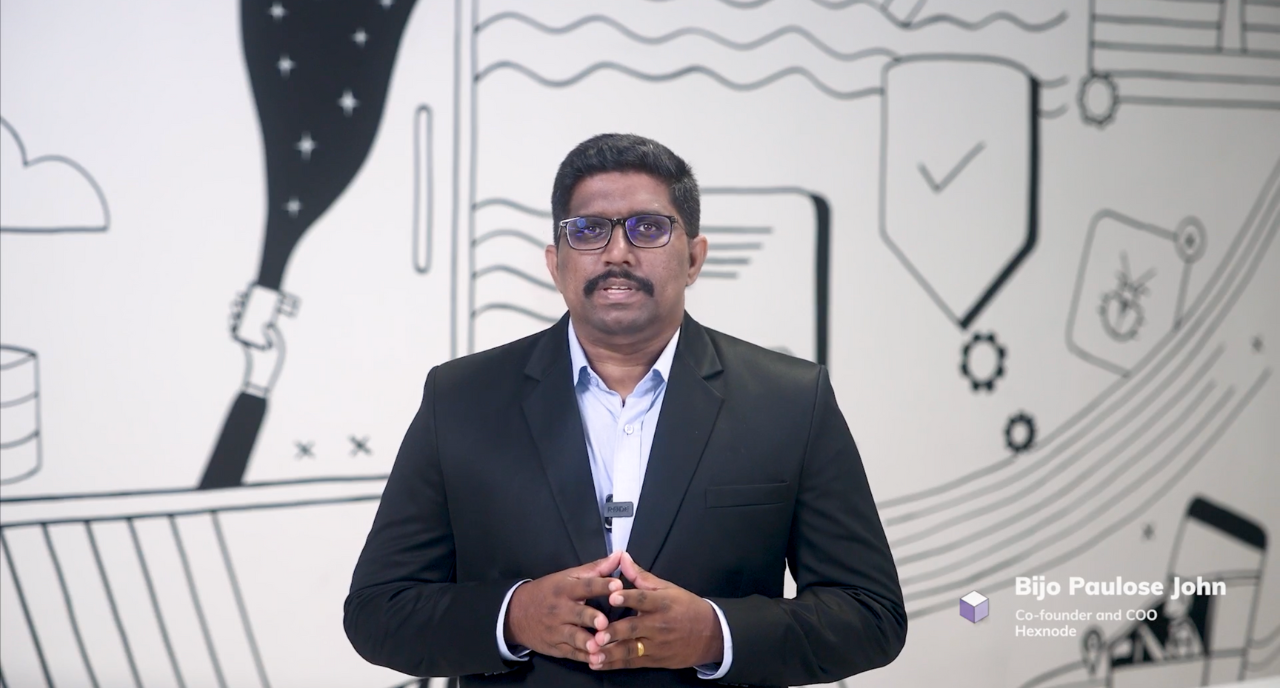 Bijo Paulose John, Co-founder & COO
On the subject of Android, Bijo introduced the new remote-control feature, where admins can troubleshoot and perform maintenance on any Android device. He also announced that Hexnode would be extending its support to Android TV, adding it to the growing list of platforms Hexnode can support.
Not to worry, desktop users, we haven't forgotten about you. Hexnode's co-management feature was also announced. Now your desktop device can host Hexnode along with your previous UEM solution. This ensures that your device remains managed at all times during the migration process.
Maintaining our vision – new updates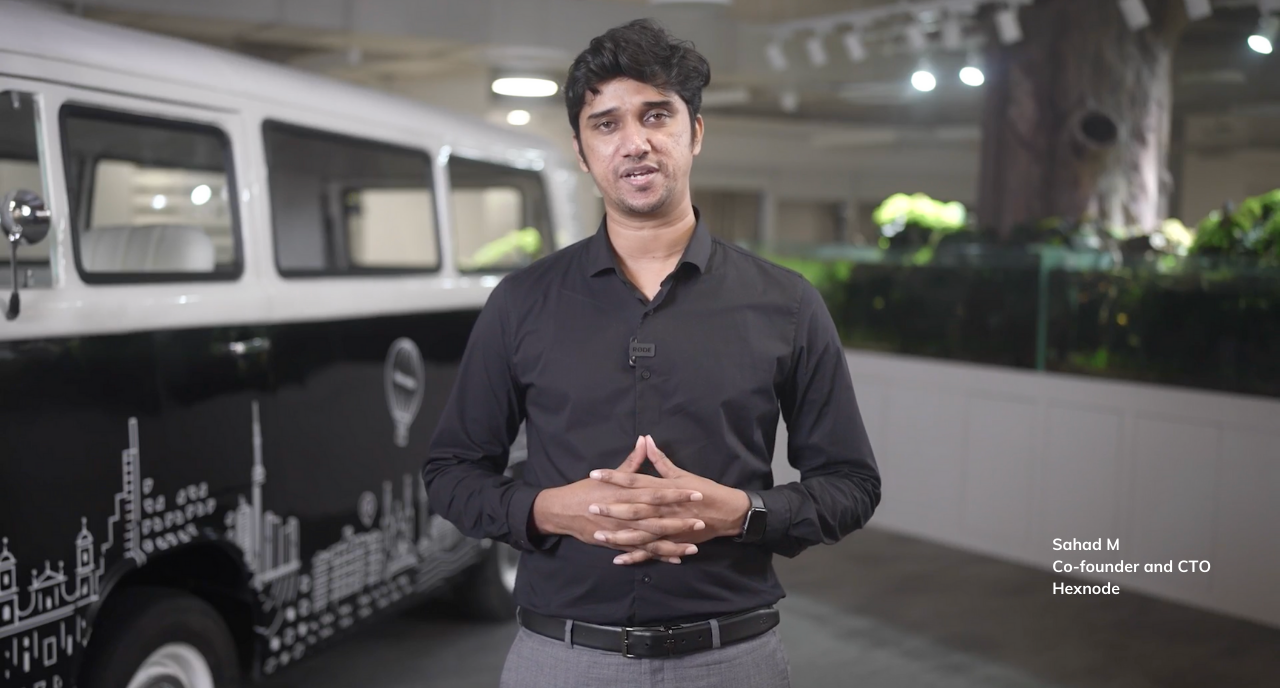 Sahad M, Co-founder & CTO
Sahad M, Hexnode's CTO gave users a glimpse of the new updates that would hit their portals by the end of 2022.
Introduction of Hexnode's very own suite of enterprise applications – email, calendar and contacts applications.
Updates for devices, including the pre and post install script for Mac and the xAPK file support for Android.
Improvements to corporate branding efforts with the introduction of a customizable login window. Additionally, you can enable or disable SSO log-in based on your organization's requirements.
Do-ing even more for the industry
Saving the best for last, Apu announced the imminent release of Hexnode Do, our SaaSOps management platform. With the threat of data breaches, outages and other cyber-perils looming large, Hexnode Do would serve as a platform to further the concept data security for all businesses, starting with SaaS management. The first phase of Hexnode Do is expected to release by the end of 2022.
"Data security is not a luxury anymore; it should be accessible to businesses of all sizes."
Let's get this show on the road!
Apu concluded the opening Keynote by welcoming everyone to HexCon22, and officially commencing the three-day event. A speech full of new updates, signalling bright start to the conference. With 70+ speakers and over 3000 minutes of topics to be covered in the next few days, there is so much information to gather, and much more to Do (pun intended!).
Enjoy the next three days, and stay tuned for the latest updates on HexCon22!